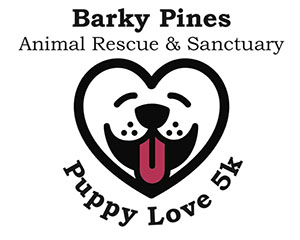 Barky Pines Animal Rescue & Sanctuary is excited to announce its second annual Puppy Love 5K Run/Walk event, which will take place Saturday, Feb. 13 at Royal Palm Beach Commons Park.
The chip-timed race will begin at 7:30 a.m. Participants wishing to do the "fun run" and/or walk with their pets will begin at 8:30 a.m.
The cost to participate in the 5K is $35 if registered on or before Jan. 31. Beginning Feb. 1, the cost will increase to $45 per person. There are also virtual and group registration options. All registrations include a shirt and participation medal. To register, visit http://bit.ly/barkypinespuppylove5k.
Day-of registration will begin at 6:30 a.m. at Commons Park. Packet pickup locations will be posted closer to race time for those registered in advance. All participants are asked to follow current CDC guidance, to include, but not be limited to, socially distancing as much as possible and wearing masks up until race start, as well as after the race upon cool down.
The event's grand marshal, Royal Palm Beach Councilwoman Selena Samios, will kick off the 5K at 7:30 a.m. Guests can also look forward to pet adoptions, a variety of exhibitors, DJ Rizz and more. In conjunction with the event, Barky Pines will be conducting a supply drive. For each supply donated, guests will be entered to win raffle prizes. Supplies needed by Barky Pines include small breed dog food, pee pads, cleaning supplies, large dog bowls, small dog beds, small dog harnesses and leashes, and farm animal feed.
Sponsors for the 2021 event include Storm Roofing, Bornheimer Farms, Heather Smith Illustrated Properties, Bark Bar Granola, Zola Chow Organic Pet Food, Nomad Mobile Fitness, Aqua Soft Kinetico, DJ Mike Rizz, Leonard Bryant Photography, Hendricks Signs, Napa Performance Auto, Best Western Palm Beach, BeneBone, FPL, MRC PA, Jennifer Batchelor Thirty-One Consultant and Suzy's Scents to the Rescue.
Benefits for sponsors include the opportunity to showcase their company's name and/or logo in print and digitally, verbal recognition at the event, complimentary registrations, complimentary exhibit space and more. Select sponsorship levels are limited, so act quickly. To support this second annual event, view sponsorship opportunities at www.barkypinesanimalrescue.com/2nd-annual-puppy-love-5k, call (561) 402-1451 or e-mail barkypines@gmail.com.
For general information, follow the event on Facebook @BarkyPinesAnimalRescueSanctuary.
"We remain honored and humbled by the turnout of support for our inaugural race," Barky Pines Director Elizabeth Accomando said. "We had more than 300 participants both in-person and virtual, and dozens more who showed up with a friend, family member or participant to be supportive. We remain appreciative of the many sponsors we had and the outpouring of support where people learned of our mission. We look forward to an even better race for 2021, even with social distancing requirements in place."
Barky Pines is an animal rescue and sanctuary located in Loxahatchee with a mission to save those animals that would otherwise be euthanized and to unite furry friends with their forever homes. Barky Pines is the second largest rescuer of animals from Palm Beach County Animal Care & Control.