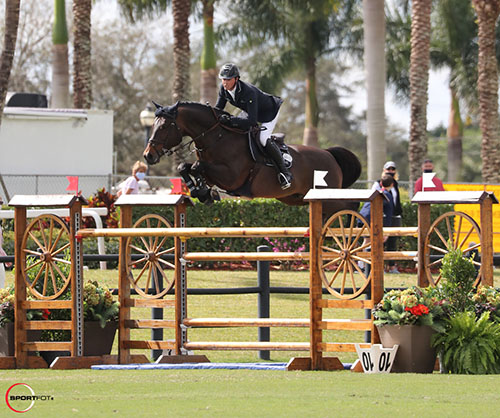 It was a thrilling finish for the final day of the second week of FEI competition at the 2021 Winter Equestrian Festival, as Olympic team gold medalist Ben Maher of Great Britain and the 18-year-old stallion Tic Tac, owned by Jane Forbes Clark, edged the competition by just one one-hundredth of a second to take top honors in the $137,000 Restylane Grand Prix CSI3* on Sunday, Jan. 24.
On the derby field at Equestrian Village, a total of 45 entries entered the ring to tackle the course designed by Oscar Soberon, with 12 qualifying to return for the jump-off. Maher executed the track flawlessly aboard the SBS stallion, leaving all eight obstacles in their cups to secure the win in a blistering time of 43.56 seconds, just one one-hundredth of a second ahead of Canada's Eric Lamaze.
"It was my lucky day, and sometimes it just happens like that," he said. "Eric is one of the fastest riders in the world, and he was on a great horse, so I think I had the luck of the draw. I was also on an experienced horse. Tic Tac is 18 and doesn't come out very often, but he gives me great confidence, and he did everything right for me today."
It certainly came down to the wire with some of the world's best riders giving the shortened course their best shot. Olympic gold medalist Lamaze also had a veteran partner for the test, finishing a close second aboard 18-year-old Fine Lady 5 for Artisan Farms and Little Creek Investments, in a time of 43.57 seconds.
"Fine Lady is naturally very fast," Lamaze said. "I've had a few classes where we went too fast and paid for it, and I asked myself, 'Why did I go so fast?' I was trying to keep a good rhythm. I knew who was coming behind me. Ben is one of the best riders in the world. I knew I rode a fast course."
Rounding out the top three was another rider known to be quite speedy, Conor Swail of Ireland, with 13-year-old Holsteiner mare GK Coco Chanel for Vanessa Mannix. The pair gave it a solid try, keeping all the jumps up in a time of 44.04 seconds to slide into third place.
"I thought the track was good today," Swail said. "It was a little different from some of the other competitions we've been jumping in, less numbers down the lines, but it was creative, and we got a very good result. It wasn't huge, but it was challenging, so I have to give the course builder credit for that."
Like many of the riders competing last week, Maher spoke highly of the opportunity to jump on the stunning derby field, noting the change of scenery from the International Arena at the Palm Beach International Equestrian Center as a great way to keep the horses fresh through a lengthy competition schedule.
"For me, the grass arena here is one of the best grass arenas there is in the world," Maher said. "That's why I picked this week to bring a horse of Tic Tac's age over here. They're great conditions. I thought it was a great course, and it was nice to see some new jumps out here this year."
Having already had some success at WEF this winter, including a win in $6,000 Douglas Elliman Real Estate 1.45m Jumpers during WEF 1, Lamaze echoed Maher's praise of the turf track.
"I think they should have as many competitions out here as they can," he said. "It is the best footing in the world, the horses love jumping here, and for me, that's real show jumping out there. We appreciate all of the effort that is made to keep us safe from COVID-19. These are difficult times, so we should all be grateful for that."
Competition continues at the Winter Equestrian Festival through April 4 as part of 13 weeks of show jumping. Spectators can watch all the featured classes for free on the livestream. Visit www.pbiec.com to learn more.