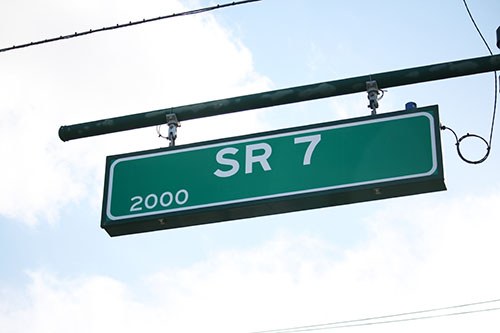 The Florida Department of Transportation will hold two virtual public workshops about new improvement plans for the State Road 7 extension from Okeechobee Blvd. to Northlake Blvd. on Thursday, Jan. 28.
The first workshop is from 1 to 3 p.m. and can be joined by visiting https://attendee.gotowebinar.com/register/7375413359244456715. For the telephone mode, dial (213) 929-4212 and use access code 242-097-156.
The second workshop is from 5:30 to 7:30 p.m. and can be accessed by going to https://attendee.gotowebinar.com/register/871813076065887755. For the telephone mode, dial (213) 929-4212 and use access code 242-097-156.
The goal of the 5-mile project is to add two new travel lanes to the existing two lanes between Okeechobee Blvd. and 60th Street North to provide two lanes in each direction, reconstruct the 60th Street roundabout from one lane to a two-lane roundabout; construct a four-lane divided roadway on a new alignment from 60th Street North to Northlake Blvd., construct crossings over the M Canal and the Ibis Preserve spillway, and construct a shared-use path from 60th Street to Northlake Blvd.
Project improvements include bicycle lanes and sidewalks on the south segment, a shared use path on the north segment, drainage, traffic signals, lighting, landscaping and design features to maintain wildlife connectivity. Roundabouts are included at 60th Street and the Ibis Golf & Country Club. Noise walls are also included at Ibis and the Baywinds residential community.
This project first started in 2005 and has met several delays over objections by the City of West Palm Beach out of environmental concerns for its water catchment area to the east. The estimated design completion date is now May 2021, and the estimated construction completion date for the $69 million project is the fourth quarter of 2024.
In December 2019, the Palm Beach County Transportation Planning Agency voted 9-8 to remove SR 7 from its long-range transportation after West Palm Beach Commissioner Joe Peduzzi tacked an amendment onto a motion by Boca Raton officials to remove certain South County roads from the long-range plan. The vote left at least one TPA board member confused as to what she had just voted for. In February 2020, SR 7 was put back on the long-range transportation plan in a 16-5 vote.
More project information is posted at www.sr7extension.com. Comments and questions can be submitted prior to the meeting through the registration link, web site or by e-mailing the project manager. Questions and comments can also be submitted via the virtual workshop and will be addressed in the workshop.
Registration is required to participate in the webinar workshop. If using a mobile device, the free "Go To Webinar" application will be required to attend. It can be downloaded for free through Google Play or the Apple Store.
Those who require special accommodations under the Americans with Disabilities Act or those who require translation services should contact Project Manager Fausto Gomez at (954) 777-4466, or toll free at (866) 336-8435, ext. 4466, or via e-mail at fausto.gomez@dot.state.fl.us, at least seven days prior to the workshop. Those who are hearing or speech impaired should call using the Florida Relay Service at (800) 955-8771 (TDD) or (800) 955-8770 (voice).