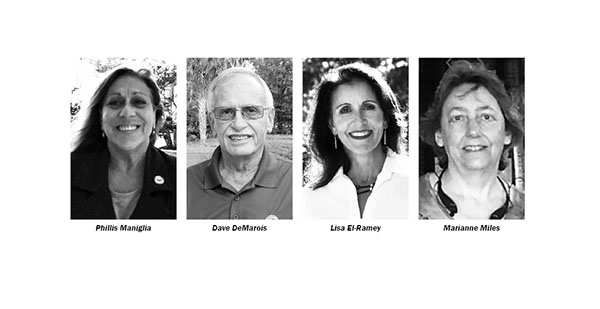 Two seats are open on the Loxahatchee Groves Town Council during the upcoming municipal election on Tuesday, March 9, and two challengers have filed to run against two incumbents.
Seat 1 incumbent Councilwoman Phillis Maniglia is being challenged by former Councilman Dave DeMarois, while Seat 3 incumbent Mayor Lisa El-Ramey will face community activist Marianne Miles.
Miles could be seen at most meetings before pandemic restrictions on attendance and is probably best known for her advocation of road improvements, especially on B Road, where she lives.
Miles said she considers herself running on issues rather than against El-Ramey. "I look at it as running to try and do what I feel would be good for all of Loxahatchee Groves' residents," she said. "It's not so much as how I feel, but how they feel, because I've listened to them on Facebook, and I've listened to them at the meetings."
Miles feels that the council is listening to only a select few individuals.
"They're not hearing what all of the residents want because they're not asking them," she said. "I've asked several times for the council to ask them, and they don't do it."
Miles would like the council to obtain enough money for all the roads in town to be done, whether it is paving or dirt.
"Our public works department — it seems like we are pulling teeth every time you need to work on these roads," she said.
El-Ramey was elected to a two-year term in 2019 and is now seeking a full three-year term. She is concerned that the town is still in its infancy and the changes are coming too quickly.
"We're starting to move a little prematurely regarding zoning changes when we are still really not being effective at controlling some of the nonconforming uses going on around town," she said.
Since the Loxahatchee Groves Water Control District recently became dependent to the town, she feels the council should better define the scope of public works so that it is more sustainable, and possibly contracting for some services that would not be provided by the town on a regular basis.
"Public works has not been able to keep up with what I consider essential services, and we have some employment issues as far as personnel, and I'm hoping that those get under control," El-Ramey said. "As far as long-term plans for the roads, I think we've got some things in the works that will give us a much better idea of the cost and the ongoing maintenance cost of those issues."
She is also concerned about the town having enough water, where it was previously concerned with getting storm water off property rather than retaining it.
After serving three years on the council, DeMarois lost his seat to Vice Mayor Marge Herzog last March. He is challenging Maniglia for Seat 1 on issues that also include the roads. "I will try to improve the roads for the people," he said.
DeMarois opposes the horse trail and roundabout proposed on Okeechobee Blvd. Although those proposals would be partially funded by grant money, he feels the town putting up its share is not a good idea at the current time.
He also has questions on how town management and public works — formerly the LGWCD — is run. DeMarois said that public works is pressured by the council to get things done when it has a staff of only four or five people.
"When we had the water district, we had three people in the office — the manager, the bookkeeper and the secretary — and on average six to 10 people out on the roads," said DeMarois, who served for many years on the LGWCD board.
When the LGWCD became dependent to the town, he said most of the staff left and replacements were not made, leaving a minimal staff.
"That's what they have now," DeMarois said. "We had four or five working in the field and three of them left. They put too much pressure on them."
Maniglia is seeking a second three-year term running on her record as a councilwoman. As a key success, she cites removing the previous management company and hiring a manager that could transition the town with minimal cost.
She was also involved with making the LGWCD dependent to the town and eliminating the old LGWCD board.
Maniglia said she was also instrumental in stopping selective code enforcement and making OGEM road repair a priority for the 2021 budget.
"My concerns are decreasing revenue due to the virus crisis, town-wide through traffic from outside influences, a lack of town-wide maintenance and seeing the effects of previous town planning," she said.
Maniglia also wants to create a new vision for the town to follow.
"We're talking about what's happening on Southern Blvd.," she said. "They were like, 'It's commercial, it's going to make us money.' Now, we're sorry. We need to have more control over that or it's going to look like Military Trail."
Maniglia plans to continue her activism over her next term on the council.
"I would like to continue to fight to clean up the town, restructure the public works department, encourage connectivity, protect neighborhoods from noise and traffic, and work toward the desires of the residents of Loxahatchee Groves," she said.