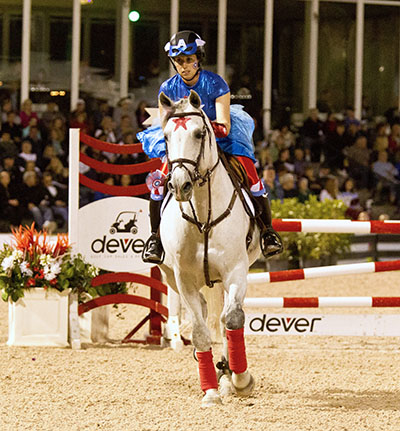 Scheduled to take place on Saturday, Feb. 6 at the Palm Beach International Equestrian Center (PBIEC), the 2021 Great Charity Challenge (GCC), presented by Fidelity Investments, plans to distribute an additional $1 million to local nonprofit organizations.
The GCC, founded during the financial crisis in 2008 by the father/daughter team of Mark and Paige Bellissimo, was created to support emerging needs in neighboring communities by increasing funding to local nonprofit organizations. To date, the exciting show jumping competition that blends equestrian sport and philanthropy has raised and distributed $14.8 million to 256 charities.
While the GCC has been blessed by the generous support of the equestrian community, the current settings surrounding COVID-19 warrant the event to extend its reach and partner with local change agents in the hopes of creating a broader impact during these challenging times.
With a shared vision that "change is almost impossible without industry-wide collaboration, cooperation and consensus," the Great Charity Challenge is joining forces with a champion in the community — the United Way of Palm Beach County.
"The United Way of Palm Beach County's response to COVID-19 was nothing short of spectacular. Their ability to mobilize the community in such a short amount of time while supporting partnered agencies made us realize that our efforts could be complementary," GCC Executive Director Anne Caroline Valtin said.
Recognized as the county's official partner to collect donations for impacted communities during COVID-19, the United Way of Palm Beach County's response fund has supported 85 partner agencies since the onset of the pandemic. Its mission is to ensure that everyone in Palm Beach County has access to the basics: a quality education, a place to live, financial stability, good medical care and enough to eat.
"Local nonprofits continue to be the safety net for our community during this time. We are thrilled to partner with the Great Charity Challenge, presented by Fidelity Investments, to support nonprofits that are providing critical services to people in Palm Beach County," said Dr. Laurie George, president and CEO of the United Way of Palm Beach County.
This new partnership with the United Way will enable the event to accept online donations for the first time, in the hopes of raising additional funds to support local charities.
"Experts in all fields agree that the lasting effects of COVID-19 will be felt for months and years to come," GCC co-founder Mark Bellissimo said. "We are in a unique and privileged position to be able to host the Winter Equestrian Festival safely here in Wellington this winter. We are very grateful that the United Way is joining forces and responding to the GCC's approach of focusing on COVID-19 relief and recovery."
The organizers of the Great Charity Challenge invite you to join this community effort, a true tribute that we are #StrongerTogether, by making a donation at www.unitedwaypbc.org/gcc or texting Give2GCC to 41444.
Organizations that have been pre-selected will virtually meet their paired equestrian teams and sponsors to receive a share of the $1,000,000-plus purse. To follow CDC guidelines and to prevent the spread of COVID-19, event updates will be shared via the event web site www.greatcharitychallenge.com, as well as social media pages on Facebook and Instagram. The event will be livestreamed, starting at 6:40 p.m. on Saturday, Feb. 6 at www.pbiec.com.