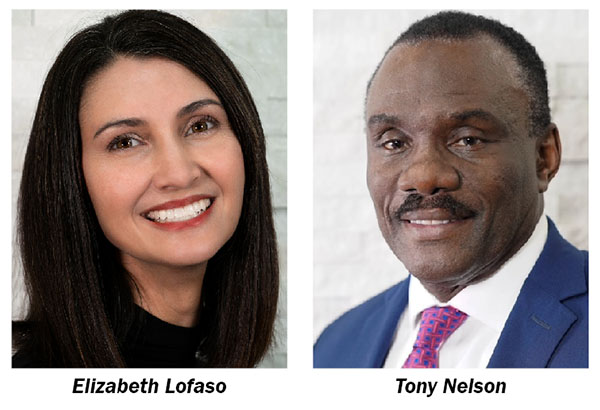 Dr. Vincent Apicella and Dr. Mariaclara Bago, the founders of Premier Family Health, recently announced the promotions of two leaders of Premier's executive team, J. Anthony "Tony" Nelson, newly appointed as president, and Elizabeth "Liz" Lofaso, APRN, as vice president.
Nelson joined Premier in 2016 as chief operating officer and risk officer. His background includes more than 37 years of senior leadership experience, including five years of international executive experience responsible for bottom line profitability. His areas of expertise include international business and budget development, product marketing, expense and risk management controls, and compliance with state audits and government affairs.
Nelson's prior positions include work as a senior level corporate executive for Allstate Insurance Company, Assurant Group and the Breakers Palm Beach. He is the founder of Nelson Risk Services, currently known as Premier Risk Services.
Nelson and his wife Evelyn moved to Wellington in 1987. He has been an active member of the community, serving in several leadership positions, including board president of the Wellington Boys & Girls Club, vice president of the Western Communities Football League and executive director of the Dorsainvil Foundation, a nonprofit organization that has provided medical services to Haiti since 1998. It is his belief that corporate leaders must be actively involved and serve their local communities.
"Consistent with the growth initiatives that have been outlined for Premier over the next few years, a primary focus for us will also be to expand Premier's presence in the community and provide continued support for community-based initiatives," Nelson said.
Lofaso's career with Premier Family Health began in 2005. Over the years, she has held several leadership positions at Premier, including director of clinical operations and director of quality care and governmental outcomes, all-the-while providing comprehensive medical care to a large patient population.
In 2018, Lofaso was chosen as Premier's chief medical officer, providing clinical guidance to the entire medical team, initiating policy changes and quality improvement efforts, while implementing cost-effective, efficient medical interventions. "I believe that patients deserve a healthcare experience that prioritizes their well-being and advocates for the best possible outcomes," she said.
In her new role, Lofaso will be involved in Premier's long-term strategic planning, as well as providing daily senior management oversight of both Premier's clinical and operational divisions.
Founded in 2004, Premier Family Health is a primary care practice conveniently located on State Road 7 in Wellington. Owners Apicella and Bago, CEO and CFO respectively, are board certified osteopathic physicians with fellowship training in functional medicine. This dynamic husband-and-wife team has spent 17 years as practicing physicians, business owners and entrepreneurs in Wellington.
"Dr. Bago and I believe that development of our team leaders is critical to our success. Over the years, both Tony Nelson and Liz Lofaso have demonstrated their leadership abilities and commitment to the principles upon which Premier was built. It is gratifying for us to see them progress in their careers, and it is with great confidence that we entrust them in their new roles," Apicella said.
Apicella and Bago are currently executive producers of a feature film documenting the journey of five patients battling various chronic diseases. With their guidance, they have helped transform these patients' lives through lifestyle modification programs. Both physicians also plan to release their first book in early 2021.
For more information about Premier Family Health, the largest integrative medical practice in Palm Beach County, visit www.premierfamilyhealth.com.