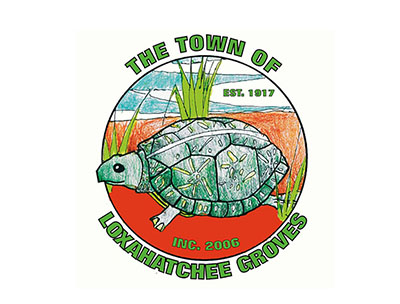 The developers of Groves Town Center came before the Loxahatchee Groves Town Council on Tuesday, Feb. 16 seeking final approval for a re-designed retention pond to drain the property but did not get it.
The council expressed frustration with the developer's plan to create six-foot berms to the north and south of what will become a 2.858-acre lake behind the plaza, located at the northeast corner of Southern Blvd. and B Road. An Aldi's supermarket is the first business to open on the 90-acre parcel. A Wawa market with a gas station is planned nearby, and a number of other uses have been discussed for the rest of the parcel.
"A six-foot berm is going to look like an anthill," Loxahatchee Groves Mayor Lisa El-Ramey told Matthew Barnes, who was at the meeting representing the developers, Solar Sportsystems and Brightwork. "I have a big problem with the whole thing."
Councilman Robert Shorr questioned how the elevation calculations are even being made. "So, it's supposed to be a six-foot berm, but six feet above what?" he asked.
Barnes had come before the council with a revised landscaping plan for the pond, which would include more of a natural, undulating shoreline and more trees, as requested by the council during a December meeting.
"To talk about trees tonight while this is still a contentious issue is putting the cart before the horse," El-Ramey said.
Barnes asked the council to approve the latest version of the plan.
"If we can't get [the master drainage plan] approved, it will delay everything," Barnes told the council members, who were unmoved.
One major point of concern is abatement of noise and visual/light pollution for residents of Collecting Canal Road, which borders the proposed lake to the north.
"All we're trying to do here is make sure our residents are protected," Shorr said. "That's not some measly berm planted with trees with four-inch trunks that will take 25 years to block anyone's view."
"You can only hide so much with trees," Councilwoman Laura Danowski agreed.
Several ideas were bandied about between council members and staff, including the possibility of creating a 15-foot to 20-foot berm and elevating the horse trail that runs along the south side of the canal, much as has been done at Riverbend Park in Jupiter, Shorr suggested.
Barnes said the developers would never go for such a plan. However, a somewhat higher berm on the south side of the pond behind Aldi's and the other commercial space might be feasible, he said.
Using dirt excavated in creating the lake to construct such a berm on the south side "may be the only way to salvage this thing," Danowski said.
In other business, the council heard a request from El-Ramey that staff work with the Village of Wellington to create an agreement between the neighboring equine-centric municipalities regarding rogue manure haulers.
El-Ramey expressed concern that with U.S. Sugar no longer accepting manure and a delay in the opening of an expected Palm Beach County facility, some haulers coming out of Wellington may attempt to illegally dump manure in Loxahatchee Groves. She suggested trying to get Wellington to agree that if a hauler were to be caught dumping illegally, that his Wellington hauling permit would be pulled. "A lot of long-term solutions need to be hammered out," El-Ramey said. "This would be strictly short term."