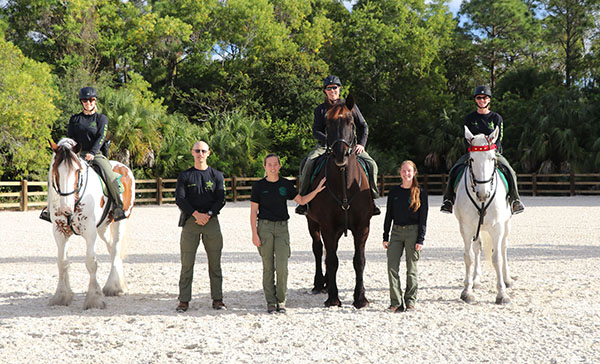 IDA Development, the industry leader in creating distinctive equestrian properties, is all about teamwork, but they are also big on giving back to the community.
Recently, IDA Development donated their immense expertise, skill and services to completely refurbish the footing in the riding ring at the Palm Beach County Sheriff's Office Mounted Unit at Okeeheelee Park. The ring was flooding, unlevel and had poor footing.
The donation was made through the nonprofit Palm Beach County Sheriff's Foundation.
"It was fun getting an inside look at the amazing care they take of their horses," IDA Development owner Harry Knopp said. "It was a privilege and honor to be involved in this project."
IDA Development regraded the arena and mixed in Premier Equestrian ProTex footing and ArenaAid with the existing footing. The arena now has added cushion for better shock absorption, retains moisture to reduce dust and is overall more stable, providing the eight horses a better surface to train on.
"They are a great group of people and horses, and they provide an important service to our community," Knopp said. "We look forward to helping them with more projects in the future."
The group's future projects include securing a hotwalker and adding obstacles to the arena, according to Sgt. Jeff Israel, supervisor of the Mounted Unit.
"It was excellent service provided by IDA," Israel said. "A professional team provided insight on arena care and management. They discussed other services as well."
The Mounted Unit team gave IDA Development an "A-plus" because of the improved water management, graded surface and safer footing for the horses, according to Israel.
The Mounted Unit is an integral part of the PBSO. The unit performs high-visibility patrols, as well as making presentations to audiences throughout the county and providing extra patrol or potential crowd control. The horses are also excellent icebreakers between the community and law enforcement officers.
IDA Development has garnered a stellar reputation for building custom arenas for hunters, jumpers and dressage riders. They can design and build any arena to match the client's vision.
With more than 30 years in the development industry, IDA Development can make all your custom-building dreams come true, whether it's your vision of a barn, home or indoor/outdoor arena.
IDA Development can use its special Equitan Sand mixed with the footing of your choice to build all types of riding surfaces. Equitan Sand is soft and non-abrasive and retains moisture. Its color reduces the harsh reflections of the sun, as well as the surface temperature of the arena.
IDA Development arenas are designed to meet the needs of horses so they can train on a safe, supportive surface.
For more information, contact Harry Knopp at (724) 689-9088 or harry@idafarm.com.