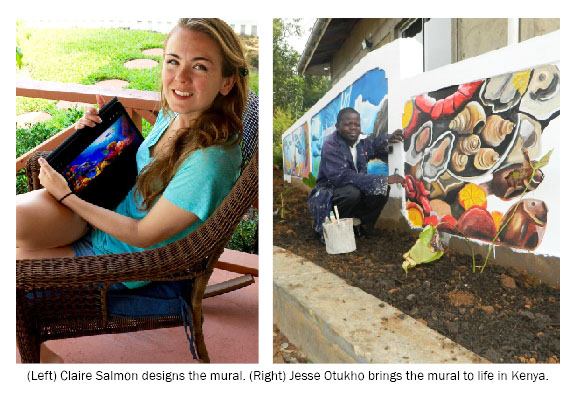 The Kijana Educational Empowerment Initiative has connected two creative artists, Jesse Otukho in western Kenya and Claire Salmon of The Acreage, to develop collaborative murals on the walls of the organization's new Global Innovation School in Sabatia-Butere, Kenya.
While the world has been "locking up" and closing borders, Kijana is proud to have linked these two talented artists in a cross-continental collaborative effort during distant times.
Salmon, a richly skilled local artist/illustrator designed a five-part ocean mural for a main entrance wall of the new school. The mural was the idea of Kijana President James Cummings, and it includes an educational phrase, developed by his sister, Dr. Molly Cummings, a University of Texas marine biologist. After Salmon designed the artwork, Kijana brought the image to Kenya, and prolific local artist Otukho painted the five parts and an additional recognition element on the wall.
The ocean mural is not only unique, beautiful and a handsome addition to the school, but demonstrated the many possibilities that continue to exist for artistic collaboration in these challenging times and inspired the students to take pride in their school and education.
Next came a collaborative African wildlife mural, incorporating another educational phrase developed by scientist and founding Kjana Board Member Dr. Mark Madison, a historian for the U.S. Fish & Wildlife Service in West Virginia. Now the artistic pair, with Kijana's guidance and inspiration, set out to undertake their largest mural yet — eight panels of the main biomes of the world. They are planning a 72-foot-long mural that will line the walls of the school's garden. Construction of this project began this month.
Born and raised in The Acreage, Salmon attended the Dreyfoos School of the Arts before graduating from Florida State University's film school for screenwriting. She is president of the local nonprofit BAM Festival Inc., a convention for books, art and music for children and teens to promote literacy. BAM's annual event is taking place virtually on April 10, where 40-plus authors, illustrators and musicians will take part in 50 panels of general fun, discussions and activities. Learn more at www.bamwpb.org.
The emerging Kijana Global Innovation School is a unique institution offering a creative, visionary and collaborative curriculum in an architecturally unique setting in western Kenya. The Kijana Educational Empowerment Initiative was founded in 2002. It promotes and cultivates youth empowerment through educational development, cross-cultural dialogue, and sustainable and environmentally friendly economic growth among rural Kenyan school communities and American school communities. To learn more, visit www.kijana.org.