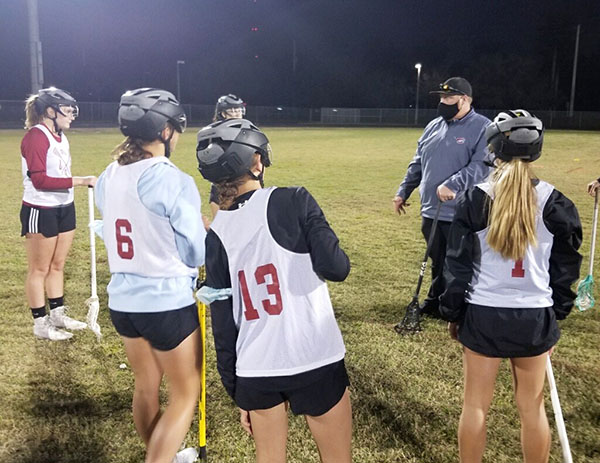 The Palm Beach Central High School girls lacrosse team is motivated and determined to win this year. With a squad of 22 players, which includes 12 seniors, Palm Beach Central's head coach Travis Abel is optimistic that this season will be the best one in the history of the PBCHS girls lacrosse program.
"Coming into this season, the coaches and the players all have experience in how practices are run and experience in big games," Abel said. "This group of ladies has had to deal with a pretty big learning curve, since 90 percent of my roster had zero experience before starting to play at the JV level. When we started the process with these girls from day one, I gave them a famous Michael Jordan quote: 'Some people want it to happen, some wish it would happen, others make it happen.' This group has gone through that process, wants to learn and get better, and has accepted the grind. They also had a taste of success when we lost a few close games our first two years. Now, coming into this season, they are ready to make things happen."
According to Abel, his squad has experience in all the key positions, beginning with his starting goalie, senior Mia Caro. He is expecting a great season from his top defender.
"Mia is the quarterback of the defense," Abel said. "She's a good communicator. She's like having a defensive coach on the field, and she makes all the saves."
Other key players on the squad include junior midfielder Sophia Scichilone, senior defender Talia Pondiscio, senior attack Morgan Rault and junior attack Sabrina Levine.
According to Abel, Scichilone leads by example at practice and during games.
"She is a great leader," Abel said. "Through her hard work in the off season and with her travel team, she is ready to put up big numbers this season. She sets the tempo for our offense."
Pondiscio is one of the stalwarts of Palm Beach Central's team this spring.
"Tal has been a captain for three years and a natural leader for this team," Abel said. "Both her and Mia Caro lead our defense with outstanding communication and Tal's great athleticism."
Rault and Levine are Palm Beach Central's own dynamic duo.
"This tag team of attack players has really started to form chemistry with each other and are looking to shine with our new look offense," Abel added.
Two of the rising underclassmen who Abel expects big contributions from this year are Chiara Scichilone, Sophia's younger sister, and Faith O'Neill.
"They are two of our younger players who are making a ton of noise this preseason," Abel said. "Both have the stick skills and lacrosse IQ that this program hasn't seen before in our underclassmen. They both will be getting a ton of minutes on the midfield."
After graduation, Caro will be headed to George Washington University to be a goalie for the Colonials, continuing her career as a student-athlete.
"Mia is the biggest collegiate commit in the history of our program," Abel said.
With the help of assistant coaches Brian Cook and Mike Skonieczki, Abel is looking forward to the start of the season, which kicks off on Monday, Feb. 15 when the Broncos host local rival Seminole Ridge High School. In the third game of the season, Palm Beach Central hosts Wellington High School for the annual playing of the Welly Cup, a game that Abel said his squad is determined to win. That encounter with Wellington is circled on his calendar.
"We've never defeated Wellington High School in girls lacrosse," said Abel, who is determined that history will not repeat itself on Friday, Feb. 19.
Rault realizes that the team needs to show progress in every practice and every game in order to reach its potential. "I just want to keep getting better," she said.
That thought is emphasized by Abel at practice. "We've got to get better every day," he emphasized.
In today's COVID-19 times, the key to the success of the varsity lacrosse team will be to remain healthy. Abel has been straightforward and blunt in his daily messages to his team, as a positive virus diagnosis on the team could seriously derail the season.
"We must take care of our bodies," Abel said. "We must take care of business in the classroom, on the practice field, and off campus."
If Palm Beach Central takes care of business on and off the lacrosse field, this team has a great chance of achieving greatness, but it will take a motivated and determined effort to get it done.