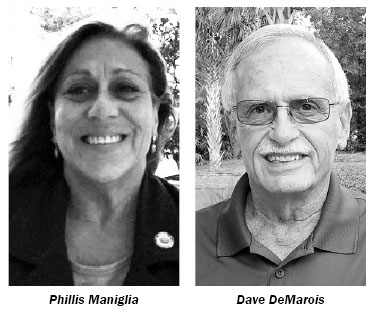 Incumbent Councilwoman Phillis Maniglia is being challenged by former Councilman Dave DeMarois for Seat 1 on the Loxahatchee Groves Town Council in the Tuesday, March 9 municipal election.
Both have a vision for the road ahead in Loxahatchee Groves, but in DeMarois' vision, all 30 miles of the town roads are eventually paved. Maniglia sees a different future that retains more of the town's rural flavor.
"I'm very worried about the town," said Maniglia, who is running for her second three-year term after unseating the late Ron Jarriel in 2018. "I'm concerned that [an aggressive pro-paving] board will bankrupt the town or raise taxes so high that many current residents can no longer afford to live here."
DeMarois said that a phased-in paving plan is financially feasible through the use of general obligation bonds and 65 to 70 percent of the annual Loxahatchee Groves Water Control District (LGWCD) assessment over a 10-year period. Under DeMarois' plan, the letter roads, Folsom Road, G Square Road, North Road, Collecting Canal Road and Sixth Court North would be paved.
DeMarois proposes a town-wide, legally binding referendum by mail. He said he believes 75 to 80 percent of voters would support an extensive paving plan.
"Taxpayers are fed up," he said. "They've lost faith in government to do what is necessary to improve and maintain the roads."
Maniglia agreed that the question of how to deal with rough, dusty and often narrow roads is a perennial issue in the community, but said it is being complicated by pro-paving politics. "We have roads that desperately need to be repaired, but that has been blocked by council members who want all the roads paved," she said.
Maniglia said that she is not against all paving projects.
"I'm in real estate," said Maniglia, who relocated from a small town in New York State to Florida in 1989. "When I show people around our community and there's dust everywhere, and we hit some huge bump. You think that's good for me? Of course, it's not. I want to see better, safer roads as much as anyone. It's part of my livelihood."
In fact, Maniglia said she was instrumental in making OGEM road repairs a priority in the 2021 budget.
However, the extent of major road improvements should be left up to property owners on each individual road, she said, and not come at the expense of the area's rural roots. Pro-paving groups "are trying to destroy the unique agricultural and equine nature of our community," Maniglia said.
DeMarois does not skirt the fact that he is seeking a council seat to push paving throughout Loxahatchee Groves, and said he encouraged Marianne Miles to run against Seat 3 incumbent Lisa El-Ramey for the same reason — in hopes of creating a pro-paving majority on the council. Miles confirmed that encouragement from DeMarois influenced her decision to run, along with a desire to create a block of like-thinking council members.
Asked about possible issues paving might create for the town's many horse owners, who enjoy riding on the area's numerous dirt roads, DeMarois pointed out that there is an extensive trail system tied to the canal easements opposite the roads.
"We can open up 15 to 20 miles worth of trails [along those canals]," he said. "Property owners can't be allowed to block them."
At the same time, DeMarois has said he opposes the horse trail and traffic-calming roundabout proposed on Okeechobee Blvd., even though the proposals would be largely funded by grant money. He has said that now is not the time for such a project.
Meanwhile, Maniglia said she is running on her record, citing removal of the previous management company and hiring a manager who could transition the town with minimal cost; joining the effort to make the LGWCD dependent to the town and eliminating the old LGWCD board; and stopping what she believes was selective code enforcement.
DeMarois, a retired Palm Beach County firefighter and longtime Palm Beach County Sheriff's Office reserve officer, said more accountability is needed in town government, and an increase in public works personnel to keep up road and canal maintenance.
It was over a personnel issue that DeMarois recently found himself in hot water with the Palm Beach County Commission on Ethics for allegedly misusing his council position to encourage the rehiring of a former employee. Pursuant to the negotiated settlement, DeMarois agreed to accept a letter of reprimand and pay a fine of $100. He also agreed that his actions were intentional. "I did it, and I'm not apologizing for it," DeMarois said in January when the agreement was announced. "If I had it to do all over again, I'd probably do it the same way. I had nothing to gain from it. I was trying to help the people of Loxahatchee Groves."
Looking to the future, Maniglia, a self-styled activist, has said, "My concerns are decreasing revenue due to the [COVID-19] virus crisis, town-wide through traffic from outside influences, a lack of town-wide maintenance and seeing the effects of previous town planning."
The town needs to learn from what she considers development mistakes already made along Southern Blvd./State Road 80.
"They were like, 'It's commercial, it's going to make us money.' Now, we're sorry," Maniglia said in January. "We need to have more control over that, or it's going to look like Military Trail."