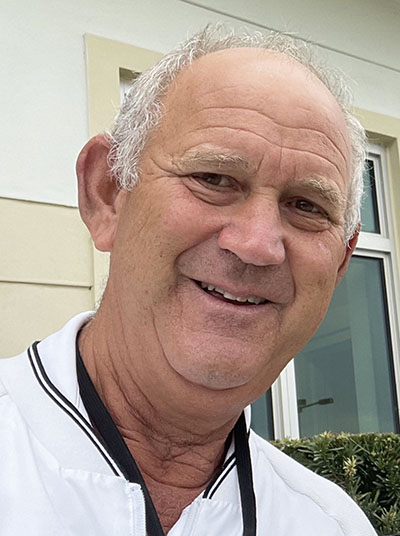 After more than four decades in the tennis and racquet sports industry, Chuck Gill has a new job near his home in Wellington as the director of the Wellington Tennis Center, located at 3100 Lyons Road.
Originally from Richmond, Virginia, where he developed his love for tennis on high school courts and in public parks, Gill earned a college tennis scholarship and studied business administration.
"Instead of continuing on with an MBA, like my father wanted, I thought it sounded much more fun to go to work for a company that managed tennis resorts," Gill laughed.
He said that his love for tennis went nicely with the business administration degree, and he went to work for resorts in the Caribbean.
By 23, he had migrated to Vermont to manage operations at Topnotch at Stowe. A later move to Florida for a stint at the Boca Resort & Club was followed by buying a home in Wellington some 25 years ago.
Topnotch at Stowe and the Boca Resort were both named to Tennis magazine's list of U.S. top 10 tennis resorts.
"My wife Amanda and I raised both our sons in Wellington. I am a Wellingtonite, and I worked as the director of sports at the Club at Ibis for 24 years," Gill said. "The club is a member equity club that recently received Emerald Elite status from Boardroom magazine and Platinum status from the Club Leaders Forum."
During his tenure at Ibis, the club was named Tennis Industry magazine's "Private Facility of the Year."
Gill has long been a United States Professional Tennis Association Elite Professional and has been a past board member of that association of teaching professionals. He was honored to be the president of USPTA in 2017 and 2018. He also serves on the United States Tennis Association Board of Directors and is the chair of the Facility Management Project Team. "We advise tennis facilities on efficient management operation," said Gill, who often speaks at industry meetings regarding programming, budgeting and member service.
As a lifelong tennis promoter, Gill is passionate about tennis, both playing, as well as teaching all abilities and all ages. Starting as the new director at the Wellington Tennis Center on Jan. 4, Gill has been saddened that the pandemic has left many programs dormant this past year. "Social play is up, but tournaments, leagues and exhibitions were all put on hold," Gill explained.
He is looking forward to increasing play during the coming months. "I am very happy to be directing tennis operations in my hometown," he said. "A community couldn't have a better center than Wellington's. It is the wonderful council and management of the village that makes this as nice a facility as any place in the country. There are 21 terrific courts with underground watering. It is a vibrant tennis center and a vibrant tennis community in Wellington."
Gill said that the state-of-the-art tennis center is maintained in great shape and has more than 4,500 square feet in the facility that houses the pro shop and viewing area.
"We have a great team of coaches and a lot of diversity," said Gill, adding that about half the coaches can offer bilingual lessons.
Gill reflected that his first introduction to tennis as a child was at public tennis parks. "That's where my heart remains, so my tennis career has come full circle. A public park is where it all began, and it is where I want it to wrap up," he said.
The Wellington Tennis Center is open currently for socially distanced play. For more info., call (561) 791-4775 or visit www.wellingtonfl.gov/tennis.