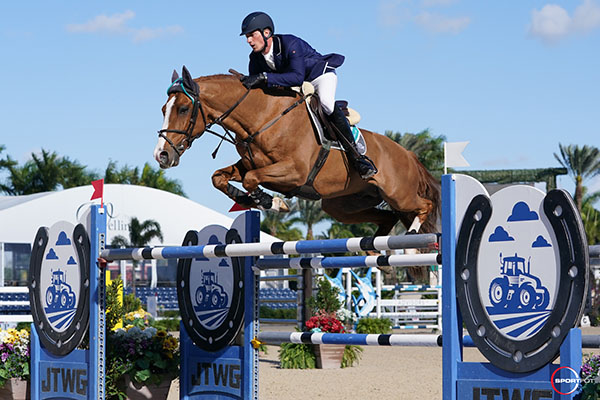 Success at the 2021 Winter Equestrian Festival continued for Germany's Daniel Deusser as he and Scuderia 1918 Tobago Z, owned by Stephex and Scuderia 1918, put forth a brilliant double-clear effort to be crowned champion of the $214,000 Grand Prix CSIO4*, presented by JTWG Inc., on Sunday, March 7, in the International Arena at the Palm Beach International Equestrian Center in Wellington.
A total of 50 entries including six of the top 12 riders in the world, challenged the opening round track, with eight pairs qualifying to return for the jump-off. Sixth to contest the subsequent round, Deusser and the 13-year-old Zangersheide stallion executed the track flawlessly, shaving nearly a second off the leading time to finish in 36.45 seconds.
Andre Thieme and Chakaria, owned by Pferdemanagement and Marketing, held on to second position with their double-clear effort. Thieme and the 11-year-old German Sport Horse mare stopped the timers in 37.49 seconds. "This is my number one horse, and I took my time with her the last few years because I realized pretty early on what I had with her," Thieme said. "She's pretty special in every way, and now slowly we've been working on going faster."
A fairly new partnership continued to develop successfully as 23-year-old Teddy Vlock and Amsterdam 27, owned by Vlock Show Stables, completed the jump-off track leaving all the jumps in their cups in 37.91 seconds for third. "I couldn't possibly be more excited," Vlock said. "He is an amazing horse, and I've only ridden him in about four shows now. Every time I get him in [the ring], I learn something new about him and it's a very good partnership so I'm ecstatic."
Deusser continues to rack up wins at WEF and is happy to have his top partner with him in Wellington. He and the talented stallion "Tobi" won the Adequan WEF Challenge Cup during WEF 7, less than a week after the horse arrived on American soil. "I've been spoiled already," he said. "He had a bit of time off last year and came back end of season last year, which was already not a perfect time because of COVID, but to be honest, every competition he went to he came back with good results. He did his last competition in December and has had basically two months off. I think he even enjoyed the time without me at home."
Prior to the jump-off, the Kate Nash Boone Style Award was presented by Michael Meller to Jessica Springsteen to honor the memory of Kate's support and love of "all things equestrian." The 2021 winner was selected by a judges' panel, stewards and the ringmaster as the international equestrian who exemplified the best style of riding while maintaining a sportsmanlike composure competing in the CSIO at WEF.
The "Cheers" Perpetual Trophy in Memory of Niall Grimes was presented to Bertram Allen as the leading rider representing Ireland in total money won in CSIO classes that week. Grimes was an accomplished equestrian whose lifelong dream was to represent Ireland in a Nation's Cup class. It was at the Winter Equestrian Festival that Niall realized his dream.