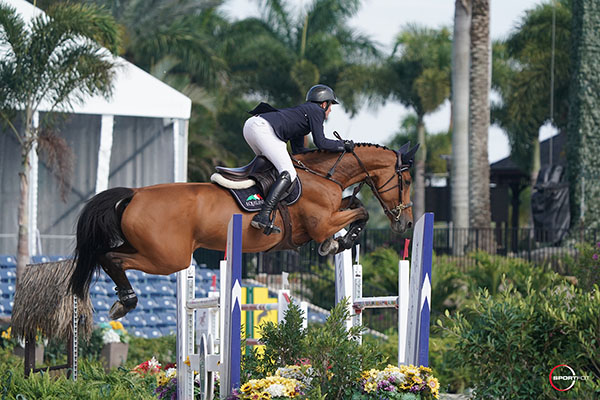 On Sunday, March 21, Darragh Kenny of Ireland picked up his second win of the week, riding Great-Tikila J, owned by Whiterock Farm and HKC Collection, to capture the $137,000 Horseware Ireland Grand Prix CSI3* as competition wrapped up on Week 10 of the Winter Equestrian Festival at the Palm Beach International Equestrian Center in Wellington.
Week 11, currently underway, is highlighted by the biggest class of the season on Saturday, March 27 at 1 p.m. with the $500,000 Rolex Grand Prix CSI5* taking center stage on the grass derby field.
Of the 45 entries in the starting order last Sunday, a total of 10 pairs mastered the handiwork of Michel Vaillancourt to punch their ticket into the second round. Of those 10, Mimi Gochman was the first to put in a double-clear round aboard Gigi's Girl BH, owned by Gochman Sport Horses, to move into the lead.
"I went super early [in the order], so I just really wanted to have a nice round," Gochman said "I was trying to go for it a little bit, but I didn't want to make any big mistakes or make her unconfident in me because it was my first three-star Grand Prix, and I really just wanted to go double clear."
Next to go in the jump-off, Hilary McNerney and her own Lovelight gave it their best effort, opening up a big gallop for the second half of the track to shave nearly five seconds off the leading time with a double-clear round finishing in 36.53 seconds. The 10-year-old Holsteiner stallion was impressive.
"My horse is super competitive, so once I got the first line done, I was like, "OK, here we go,'" McNerney said.
The only other double clear of the day proved to be the best as Kenny piloted his 10-year-old Dutch Warmblood mare to an impressive double clear effort in 35.24 seconds for the victory.
"I actually got very lucky in the jump-off, to be honest," he said. "I had planned to do the six [strides] like everybody did in the first line, then turned very tight back to the double, and she tried really hard. I had a hard rub on the back rail jumping out but got away with it, then I ended up doing six where Hilary had done five."
Kenny and his sponsors purchased the mare just over a year ago, and the win was even sweeter as it was also the first Grand Prix of her career.
"When we bought her, she was very green having only jumped 1.30m, but she's extremely talented," he said. "She's careful, scopey, brave, a little bit of a mare sometimes, but in the ring, her ability is incredible. I was really happy with her because I aimed her for this week. She jumped clear in the WEF and then jumped super today and felt really good."
Ranked ninth in the world, Kenny continues to rack up wins at the 2021 WEF and plans to close out the winter circuit in the CSI5* during WEF 11 while stepping up with some of his newer horses to jump the CSI4* during WEF 12.
McNerney and Gochman ended the day finishing second and third, respectively, in what marked the first CSI3* Grand Prix for both of their careers.
"For me, it's a horse that I stole from my trainer Kent [Farrington]," McNerney said. "We did a lot of the shows on the grass derby field over at Equestrian Village during the summer because we stayed here because of COVID-19, and this result is very exciting. I'm hoping to move up and do the CSI4* during WEF 12 and see how that goes."
The day provided a new experience for Gochman.
"I have no experience at Grand Prix level, and my horse has all the experience," she said. "I think it kind of balances out, and we trust each other. She is a big-strided horse, scopey, big jump, and I kind of just have to stay with her and let her do her thing. I think being able to go double clear in a three-star makes me feel like I can do these bigger classes. Knowing that I'm strong enough at this point of WEF really helps boost my confidence for the future."
Follow all the action at WEF at www.pbiec.com.