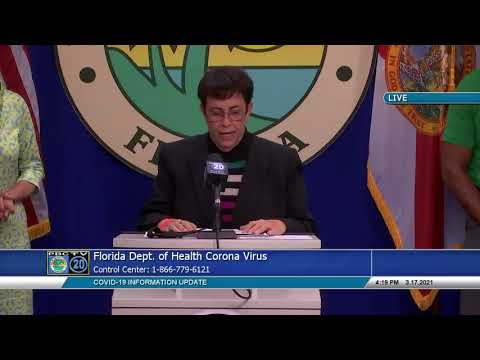 On Wednesday, March 17, Palm Beach County Mayor Dave Kerner gave an update at the Emergency Operations Center on local COVID-19 mitigation efforts. Joining him were Dr. Alina Alonso, director of the Florida Department of Health-Palm Beach County; commissioners Mack Bernard, Maria Marino and Maria Sachs; County Administrator Verdenia Baker; and Palm Beach County Fire-Rescue Chief Reginald Duren. March 17 marked one year and one day of Level 2 activation at the EOC.
Vaccinations — Palm Beach County has been a statewide leader in distributing vaccinations. Through March 15, a total of 348,293 Palm Beach County residents have received at least one vaccination; 74 percent of them are age 65 or older. A total of 232,171 county residents have been fully vaccinated. "The bottom line is we have a very robust system of vaccination through our state and federal partners and our county partners," Kerner said.
Cumulative Vaccination Map — The mayor presented a color-coded county map displaying vaccination rates by ZIP code. Some areas show more than 85 percent of persons age 65+ have been vaccinated. Nowhere in the county is the vaccination rate lower than 25 percent. The map will be interactive on the county's main web site, www.pbcgov.com, beginning Thursday.
Variants — Alonso cautioned against the community letting its guard down and possibly allowing a fourth wave. "It's important that even if you get vaccinated, that you continue to wear your mask in public," Alonso said. She noted that Florida currently has the most variants of any state. Statewide, five people with the variant have died. All were hospitalized and none had any travel history. Three variants of COVID-19 are present in Palm Beach County with 75 active variant cases. 
Homebound Vaccines — The Florida Division of Emergency Management has announced a program to administer vaccinations for homebound seniors. To book an appointment, e-mail HomeboundVaccine@em.myflorida.com. At this time, no phone calls for appointments are being accepted.
Masks — The mandatory facial covering order in Palm Beach County is being extended to mid-April. Kerner said there has been good compliance by area businesses and establishments, but due to the influx of spring visitors and the presence of COVID-19 variants that spread more quickly, it is important to continue taking precautions.
CECT — The COVID Education and Compliance Taskforce continues visiting businesses and establishments to ensure patrons are following the county's mask mandate and other safety guidelines.
As vaccine supplies increase, vaccination efforts and strategies will be expanded to utilize fixed regionally located vaccination centers in the south, central, north and west portions of the county, points of distribution, clinic operations, and mobile pop-up community sites. Residents are urged to continue following the 3 Ws: wear a mask, wash your hands and watch your distance, and avoid the 3 Cs – closed spaces, crowded places and confined spaces.
See video from the update below: