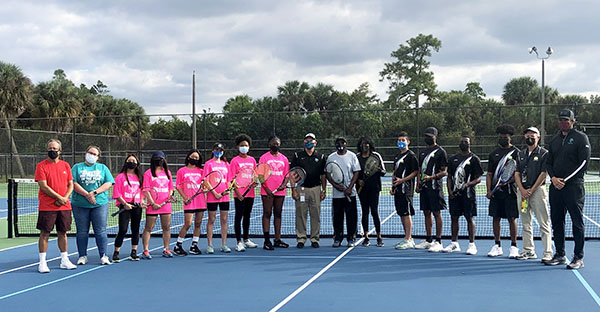 The Royal Palm Beach High School tennis team unveiled their new tennis courts during their first home match against Seminole Ridge High School on Thursday, March 4.
RPBHS Principal Dr. Jesús Armas, Athletic Director Eric Patterson, boys tennis head coach Gary Fradkin, girls tennis head coach Gary Harmon, assistant coach Daniel Prieto and assistant coach Kathryn Murphy attended the event, along with faculty and staff.
Palm Beach County School Board Member Marcia Andrews and her husband Robert had the honor of hitting the first serve on the new courts. Armas gave the opening speech, expressing enthusiasm for a great season to come.
"The new tennis courts can also accommodate pickleball, bringing new sports and leisure activities to Royal Palm Beach and the western communities," Fradkin said.
Off to a good start, the RPBHS boys and girls tennis teams won 6-1.