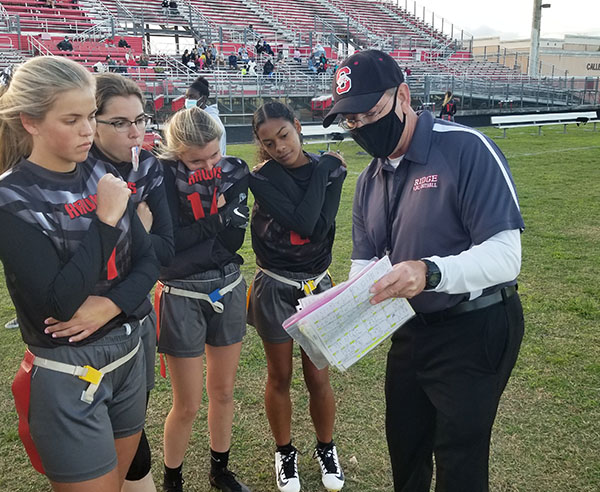 In the local battle for flag football bragging rights, the Seminole Ridge High School Hawks remain among the ranks of the undefeated.
On Tuesday, March 9, the Royal Palm Beach High School Wildcats flag football team (2-1) traveled to play Seminole Ridge. The Hawks (3-0) scored on their first two possessions of the game, led 13-0 after the first quarter and never looked back, winning 32-7.
The Hawks were led by quarterback Haylie Young, who completed 20 out of 28 passes for 213 yards and five touchdowns, three of which were caught by slot receiver Riley Jones.
The windy conditions, which made passing the ball difficult, didn't bother Young or Jones.
"It was little difficult passing the ball in the wind," Young said. "But we practice in these conditions every day."
"I was just focused on the ball, and I caught it," Jones added.
The Hawks' defense also had a great night, grabbing three interceptions thrown by Royal Palm Beach quarterback Karleigh Farrell. Seminole Ridge rusher Angelina Sanchez had three quarterback sacks in the game, too.
The Wildcats scored their lone touchdown late in the fourth quarter when receiver Jenna Springthorpe caught a 15-yard touchdown pass from Farrell.
"I liked our energy today, and we are working to come together as a team," Seminole Ridge coach Scott O'Hara said. "We still can improve, and we must improve."