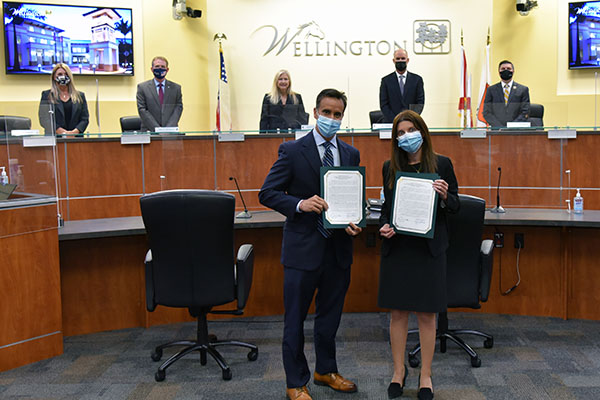 The Wellington Village Council issued a proclamation Tuesday, March 23 recognizing local healthcare workers who have responded over the past year to the needs of area residents during the COVID-19 pandemic.
Read into the record by Village Clerk Chevelle Addie, the measure specifically recognized the workers from Wellington Regional Medical Center and Palms West Hospital for their service to Wellington and the surrounding communities.
"Due to the COVID-19 pandemic, the essential services provided by area healthcare professionals and facilities has been more important than ever before," Addie read. "Staff and frontline workers at Wellington Regional Medical Center and Palms West Hospital work hard every day to protect and care for their patients, often risking their own lives to provide these essential services."
The recognition includes physicians, nurses, therapists, food service workers, volunteers, administration and more at the two local facilities.
Director of Emergency Management & Public Safety Nicole Coates, who has worked closely with both hospitals during the crisis, introduced the CEOs of each facility. "Now that it has just been a year, we have reflected on those who have helped to save so many lives in our village — our frontline healthcare heroes," Coates said.
Wellington Regional Medical Center CEO Pam Tahan reiterated that the frontline healthcare workers are indeed heroes.
"They came in every day, not knowing what was ahead of them," she said. "The heroes inside both of our buildings were there for you and for all of us. We're so thankful that you show us your appreciation."
Palms West Hospital CEO Josh DeTillio also thanked the council for their support.
"We accept this on behalf of our employees, [all] positions and staff," he said, adding that everyone at the hospital is optimistic about the future. "There's a lot of excitement on the horizon, with the vaccine out."
Mayor Anne Gerwig invited the guests to stand and welcome the representatives of the healthcare heroes and thank them, to a rousing reception from the large, socially distanced audience.
"I want to acknowledge Nicole Coates, our emergency management director," Gerwig said. "I never thought that something like this would happen and that we would have an emergency management director who needed to mesh with these healthcare providers, and it worked well."
Vice Mayor Tanya Siskind agreed. "We didn't know what was coming, no one did, and we thank you for all your work," she said.
Councilman John McGovern said that it was reassuring to know the hospitals were available when so many people in Wellington were touched by the virus.
"You are all owed a great debt of gratitude. This is a small token. I particularly want to thank Pam Tahan for taking my calls in the evenings and on weekends to reassure us with news of what was really happening at the hospital," McGovern said.
Councilman Michael Napoleone was also very appreciative.
"The year you were faced with, and the way you had to step up for days on end, and what the staff had to go through knowing that you were all here to serve our residents," he said. "All of us feel good knowing that what you did was phenomenal. We're so lucky to have both of you and your facilities."
Councilman Michael Drahos began by saying that he has worked with many medical professionals.
"There is a character trait to the medical profession like none other. It is selflessness," he said. "When I get to meet these doctors and know them as human beings… they came in every day because it was their job. They wanted to be there and wanted to help."
Gerwig said that she had the "opportunity" to be hospitalized during the pandemic and experience the high-quality care offered.
"All kinds of things were different having surgery during the pandemic, but I felt safe in your hospital. It was a good place to be," Gerwig said.
She also took the occasion to remind people not to put off necessary medical treatment. "Get to medical professionals if you have any problems," Gerwig said. "If you have been putting off healthcare that won't wait, these folks have our backs."