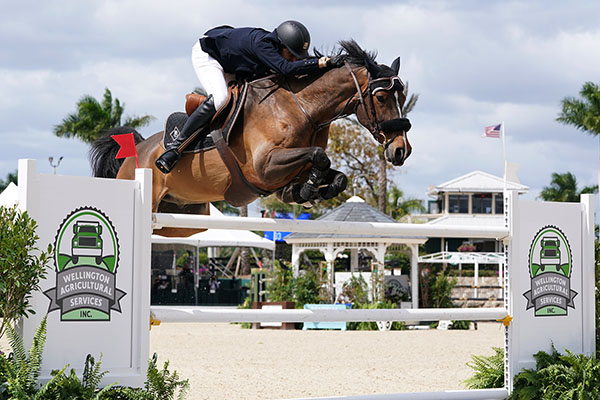 Adam Prudent and Baloutinue, owned by Plain Bay Farm, raced to victory in the $214,000 Wellington Agricultural Services Grand Prix CSI4* on Saturday, April 3, during the final weekend of this year's Winter Equestrian Festival at the Palm Beach International Equestrian Center in Wellington.
A starting field of 42 horse-and-rider combinations set out over the 1.60m track designed by Olaf Petersen Jr. with eight pairs qualifying for the jump-off.
First to return, Ioli Mytilineou of Greece and Levis De Muze set the tone for the day with an impressive double-clear round, making 40.20 seconds the time to beat. Multiple changes atop the leaderboard would continue from there as Canada's Jim Ifko entered next guiding Un Diamant Des Forets to a double-clear finish, besting the leading time in 36.54 seconds.
The next rider found a way to get the job done even faster, as Prudent and the 11-year-old Hanoverian gelding produced a double-clear round in a blazing 35.28 seconds.
Riding in the sixth spot in the jump-off field of eight, Kent Farrington and Gazelle gave it a solid run. The Olympic team silver medalist guided his 15-year-old Belgian Warmblood mare to a clear round in 37.37 seconds.
For Prudent, the win marks an even sweeter victory with a horse he has had for almost four years. He and his team at Plain Bay Farm have taken the development of the talented gelding slowly, only moving him up to the four and five-star level this season.
"The horse is very careful," he said. "I haven't really had a chance to go fast yet, since this is only my third Grand Prix jump-off with him. I pushed it to the limit this time and really asked him to perform the best he could. I knew I had a lot of fast people behind me, so wanted to really lay it down and take every risk I could, and it worked out quite well."
Ifko and "Monty," a 13-year-old Selle Français stallion, ended the day in second place to wrap up a very successful 2021 WEF campaign that included wins in the $37,000 Restylane 1.45m Qualifier CSI2* during WEF 5 and the $50,000 Wellington Equestrian Realty Grand Prix CSI2* during WEF 9.
"Monty is a very aggressive stallion when he's in the ring," Ifko said. "He's a competitor for sure! In the jump-off we maybe had a bit of an advantage in the two lines that were both long nine strides to verticals. He has the ability to run down to a vertical and still leave it up, so I felt confident galloping quickly down both of those lines. Luckily enough, it worked in our favor."
Currently ranked seventh in the world, Farrington finished the day in third place.
"I went later in the jump off. These two guys went early and went aggressive to try to win, which I love," he said. "I think that is great sport. They both had incredible rounds today."
Looking ahead, Prudent plans to give his string of horses at least a month off at their farm in Virginia after a busy winter circuit of competitions. For Ifko, the plan is to return to Canada for a much-deserved break as well. With a similar plan to his fellow competitors, Farrington will stay in Wellington a little while longer and give his horses some time off in the Sunshine state.
Before the class, Adrienne Sternlicht was presented with the Overall Martha Jolicoeur Leading Lady Rider Award for her success during the 2021 WEF. A former international show jumper and successful real estate broker, Martha Jolicoeur of Douglas Elliman Real Estate began presenting the award in 2010 to recognize female accomplishments in the sport.