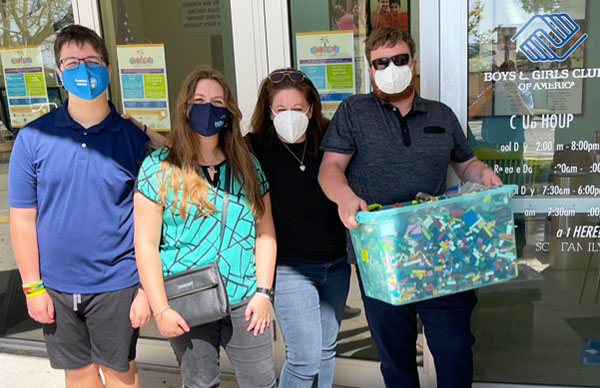 Bricks Busting Boredom celebrated its five-year brick-a-versary by donating 500 pounds of used "upcycled" Lego bricks on Friday, April 2.
The Wellington-based nonprofit is managed by siblings Daniel, Sarah and Jonathan Clein. BBB has donated 3,700 pounds of used Lego bricks and 1,300 new Lego sets to children's hospitals, emergency shelters, foster homes and homeless shelters.
As part of the celebration, 100 pounds of used Lego bricks were donated to five different nonprofits — the Quantum House, Project REACH, the YWCA, the Kids Cancer Foundation and the Boys & Girls Club of Wellington. This was the largest single day Lego donation BBB has ever held.
"We are very thankful for the community's continued support of Bricks Busting Boredom," Sarah Clein said. "To know that we can continue to bring smiles to the faces of children, even during these challenging times, is what Bricks Busting Boredom is all about."
Sarah will be joining her brother Daniel in Gainesville soon, but younger brother Jonathan will be taking over the helm of BBB.
To learn more about Bricks Busting Boredom, or to make a Lego donation, call (954) 682-3816 or find them online at www.bricksbustingboredom.org.