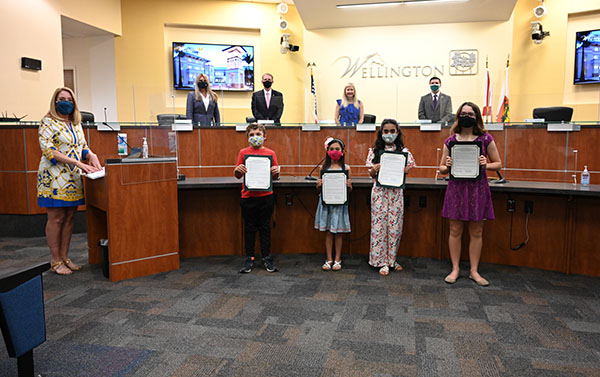 The future visited the Wellington Village Council on Tuesday, April 13 when area students attended to display the artwork on their posters promoting ecology and water conservation.
Also at the meeting, a contingent from Cub Scout Pack 125 came by to present a plaque to the council, and Councilman John McGovern was appointed to the rotating and largely ceremonial post of vice mayor.
Students from kindergarten through 12th grade had been encouraged to create original posters depicting the message of water conservation as a theme for the local edition of the American Waterworks Association's 2021 "Drop Savers" Water Conservation Poster Contest.
With April being National Water Conservation Month, the contest promotes water awareness and the importance of water conservation in daily life. Wellington's Utility Department created a local Drop Savers contest in 2017. This year, 182 students from five area schools submitted posters of their own creation.
A proclamation was announced, recognizing and congratulating Alani DiAntonio (Division 1) from Panther Run Elementary School, Russell Jaxson Hopkinson (Division 2) from Wellington Elementary School, Kayla Pieris (Division 3) from Elbridge Gale Elementary School and Audrey DellaVecchia (Division 4) from Wellington Landings Middle School. They were selected as first-place winners in their designated divisions for the local contest.
Each of the students received recognition, a visit with the council and a copy of the proclamation, but they seemed most interested in the goody bag of prizes that went along with their awards. The first- and second-place artwork will be displayed at the Wellington Municipal Complex.
"The students participated largely remotely, as this contest began during the early part of the pandemic," Councilwoman Tanya Siskind said. "So, we would like to recognize the parents and their help with the project."
A contingent from local Cub Scout Pack 125 also attended the meeting to address the council to thank them for assistance, facilities, support and participation in their recently completed Pinewood Derby event. Sporting a wooden plaque and mementos for various staff members, the pack members were met with a welcome message from Village Manager Jim Barnes. He noted that the council had decided to support the event going forward to permit it to be held annually at the Wellington Amphitheater.
In other business:
• Representatives from Florida Power & Light made a PowerPoint presentation about the company's 30-year program of resiliency and hardening efforts. However, the presentation was plagued by technical issues, leading Mayor Anne Gerwig to repeatedly tell them that no one could hear them.
The presentation revealed that vegetation is the biggest issue resulting from storm damage, since vegetation will tear up lines no matter how strong they are. FPL has put a focus on more underground lines, which they said is a better way to go for reliability on a day-to-day basis, as well as during storms.
Council members expressed concerns that older poles are not being removed whenever new transmission methods are put in, often due to other utilities, such as cable companies, using them. Also noted was the spotty service in the area due to frequent, unexpected power outages during the working process.
"My son can't even work at home during the pandemic due to the power outages," said Gerwig, adding that there needs to be better coordination, so residents know what to expect.
• A public hearing was held regarding updates to the village's comprehensive plan that is coming before the council in sections before going to the state for review, as required by state law.
The issue at the meeting was to repeal and replace the entire Education and Public School Facilities elements with a new combined portion entitled the Education Element. The reformatted element focuses on area schools.
Councilman Michael Napoleone suggested adding more emphasis on early childhood learning and facilities from birth to kindergarten. It was decided to add this recommendation, as well as comments about learning at the other end of the spectrum, with collegiate and work preparation institutions. No members of the public offered comment, and the modified measure passed 4-0, with Councilman Michael Drahos absent.