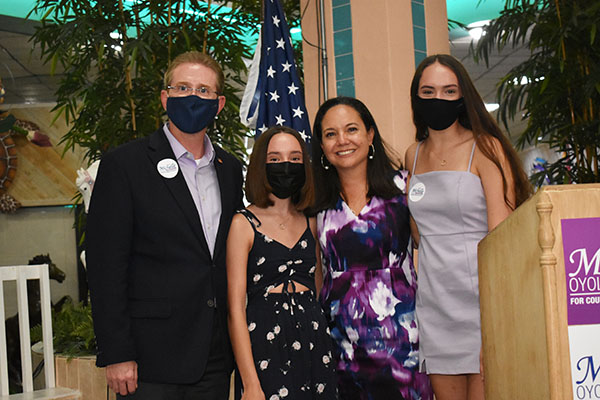 Wellington resident Michelle Oyola McGovern, previously state director for former U.S. Sen. Bill Nelson, joined the race for Palm Beach County Commission District 6 this week. District 6, which represents the western portions of the county, is currently represented by term-limited Commissioner Melissa McKinlay, who will leave office in 2022.
McGovern announced her campaign Tuesday, April 21 at a rally held at the original Wellington Mall. She said that she is, "A professional, wife, mom and leader. I love the district and know it well."
If elected, McGovern noted that she would be the first person of Latin-American background to serve on the Palm Beach County Commission.
She spoke about her parents, Arlene and Manuel Oyola, and her large Puerto Rican family. "My parents never had the opportunity to go to college, we never had much, but we never wanted for anything," McGovern said. "My parents raised four daughters with six degrees among them. They lost everything more than once, but persevered and 'built back better.'"
McGovern said her parents instilled in her a passion for service and the importance of hard work, honesty and integrity in everything you set out to accomplish.
McGovern is married to Wellington Vice Mayor John McGovern and mother to their daughters Emilia and Victoria. She has worked with her local Parent Teacher Association and School Advisory Council. She thanked her children in advance for understanding that if the campaign is successful, they will be seeing a bit less of her. "But around the McGovern house, they know that elections are about winning," she said.
The incumbent, McKinlay, was on hand to introduce McGovern, endorsing her with the words, "I want you to have my job."
McKinlay said that McGovern would be able to bridge the east and west of the county, work with legislators, and help solve the problems of Lake Okeechobee and the Glades area.
"I believe I am better suited for local government," McGovern said. "My experience and record in community advocacy, understanding of policy issues… working with local elected officials is a large part of what I did for 18 years [with Sen. Nelson], and my record of getting things done, makes me the right choice for County Commission District 6."
McGovern said that she is the right person for right now.
"This is a unique time, with COVID-19, and Palm Beach County is in a unique position," she said. "It is in a better position financially than many counties. That is a responsibility for the commission. We need to make sure there are jobs for the people who already live here and who work here, perhaps remotely. The important issues will need to be tackled in the years to come… I have a proven record of leadership and will be an advocate that always stands up for our families, neighborhoods and community."
Aside from her husband and McKinlay, McGovern was joined by a number of local supporters, including three other members of the Wellington Village Council — Tanya Siskind, Michael Drahos and Michael Naploleone — and Royal Palm Beach Mayor Fred Pinto. She unveiled a long list of endorsements from all across the county.
McGovern currently serves, or has served, with numerous organizations, including past president and board member of the Forum Club of the Palm Beaches; founding member and president of West Palm 100; past president and board member of SunFest; trustee of the Chamber of Commerce of the Palm Beaches; President's Circle member of the Wellington Chamber of Commerce; and trustee of the Central Palm Beach County Chamber of Commerce. She is also treasurer of the Homeless Coalition of Palm Beach County and chair of the Palm Beach County Advisory Commission on Women, where she continues her advocacy efforts.
McGovern worked side-by-side with local leaders to successfully bring forward the first rape treatment center to Palm Beach County, located at Wellington Regional Medical Center. As vice chair of Wellington's Education Committee, McGovern worked to create Wellington's unique school funding program, the annual Keely Spinelli Grant. She has also served on the charter review committees in both Wellington and West Palm Beach.
"There is no person who wants to solve problems more than her," John McGovern said of his wife.
To learn more about Michelle McGovern's campaign, visit www.votemichellemcgovern.com.
There is still more than a year before filing closes for the position, but as of now, four candidates have filed paperwork to run — Democrats McGovern, State Rep. Matt Willhite (D-District 86) and Sylvia Sharps, and Republican Sara Baxter. Primaries will be held Tuesday, Aug. 23, 2022, with the general election on Tuesday, Nov. 8, 2022.