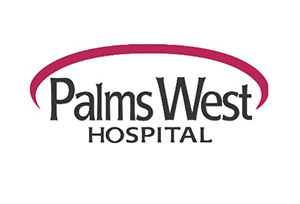 Palms West Hospital is among the top 10 percent in the nation for patient safety, according to new research by Healthgrades, the leading resource that connects consumers, physicians and health systems.
Each year, Healthgrades evaluates hospital performance at nearly 4,500 hospitals nationwide for 32 of the most common inpatient procedures and conditions using Medicare data, and all-payer data from 16 states for bariatrics and appendectomy procedures.
Healthgrades Specialty Excellence Awards recognize hospitals with superior performance in specific specialty lines and specialty focus areas.
"The importance of hospital quality is top of mind for consumers, as they are becoming more aware of the differences of care provided by different hospitals. Consumers can feel confident knowing that hospitals that are recognized for their performance in patient safety provide high quality care and superior outcomes," said Dr. Brad Bowman, chief medical officer at Healthgrades.
"We are honored to receive the Patient Safety Award for a fourth year. This recognition validates Palms West Hospital's longstanding commitment to patient safety, clinical quality and the care experience," CEO Josh DeTillio said. "As we continue to expand to meet the growing needs of our communities, we remain dedicated to keeping our patients' safety a top priority."
The Patient Safety Award speaks directly to the initiatives Palms West Hospital has undertaken to reach this quality achievement. In addition to following safety protocols, the hospital has employed the use of evidence-based standards of care, bar-coded medication administration, physician order entry (POE) and technology such as UV light to support cleanliness goals.
Palms West Hospital was also recognized for the following clinical achievements: recipient of the 2021 Healthgrades Coronary Intervention Excellence Award, Healthgrades Five-Star Recipient for Treatment of Sepsis in 2021, Healthgrades Five-Star Recipient for Treatment of Stroke in 2021 and Healthgrades Five-Star Recipient for Total Knee Replacement in 2021.
For its analysis, Healthgrades evaluated approximately 45 million Medicare inpatient records for nearly 4,500 short-term acute care hospitals nationwide to assess hospital performance in 32 common conditions and procedures, and evaluated comparative outcomes in appendectomy and bariatric surgery using all-payer data provided by 16 states.
The complete Healthgrades 2021 Report to the Nation and detailed study methodology can be found at https://partners.healthgrades.com/healthgrades-quality-solutions/healthgrades-quality-awards.
Palms West Hospital is a 204-bed, acute-care, full-service facility combining high-quality, patient-driven care and state-of-the-art technology to serve residents.