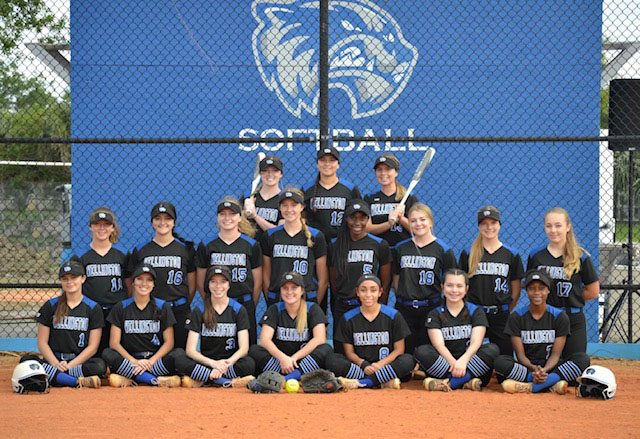 Coach Mark Boretti is approaching the end of his 12th season leading the Wellington High School girls softball team, and he can't think of any of his past teams that truly understand the importance of teamwork better than his current squad.
"This is a really close-knit team," Boretti said. "It's a great group of kids."
Assistant coach Jackie Humphrey agreed. "They enjoy playing softball with one another," Humphrey said.
This year's Wolverine softball team is passionate about the game, and everyone is talented and can play multiple positions. "There's lots of versatility on this year's team," Boretti explained.
According to Boretti, there's never any pushback from any of the players when they are asked to field a different position.
That's an important quality for any high school athletic team, which has to deal with unexpected absences due to injury, sickness, a death in the family or a COVID-19-related issue.
Like most successful high school teams, this year's Wolverine softball team has leaned on the experience and leadership of its seniors. Boretti has three talented seniors on his team who lead by example — Nelia Peralta, Paige Rodriguez and Jolie Skivington. Peralta is the starting shortstop, while Rodriguez is the third baseman and Skivington patrols centerfield.
Peralta batted over .500 this year and will be continuing her softball career next year at Auburn University.
Peralta is the catalyst for the Wolverine offense. Her on-base percentage this year is .700.
According to Boretti, Rodriguez is quick, talented, smart and has a strong arm.
Skivington has great range in centerfield. "Jolie is instinctive and gets a great jump on balls hit to the outfield," Boretti said.
Other key members of the team include junior Gabby Mack, junior Emma Brinkman and sophomore Jordan White.
According to Boretti, Mack is one of his key power hitters who bats cleanup. Brinkman and White are his two primary pitchers. Both have shown great progress this season and are continuing to improve.
While Boretti admits that Brinkman and White don't have dominant velocity with their pitches, which generate lots of strikeouts, they do have great control as they throw more strikes than balls.
Boretti noted that his defense must be ready to successfully field and catch any batted ball at any time in order for his squad to have a deep postseason run. And it would help for the offense to generate a few runs, as well.
"The key to success in softball is talented pitching, strong defense and timely hitting," Boretti said.
The most important part of the current softball season begins during the week of April 26, as the end-of-season district tournaments are held that week throughout the state. Wellington's two biggest obstacles in its Class 7A, Region 7 district tournament are Jupiter High School and Palm Beach Gardens High School, one of which will most likely play Wellington in a district tournament semifinal during the week of April 26.
If the Wolverines can make it to the championship game, they will automatically earn a berth in the Florida High School Athletic Association's state softball tournament series, which begins with the regionals on Thursday, May 6. District tournament winners will host first-round regional games, while district tournament runners-up must go on the road.
The Wolverines made a statement in regular season district play with their 4-0 shutout of Jupiter on April 12. They also reconfirmed their standing as the "best in the west" this season by blanking Royal Palm Beach 15-0 on March 2, doubling up Palm Beach Central 12-6 on March 4 and defeating Seminole Ridge 3-2 on April 15.