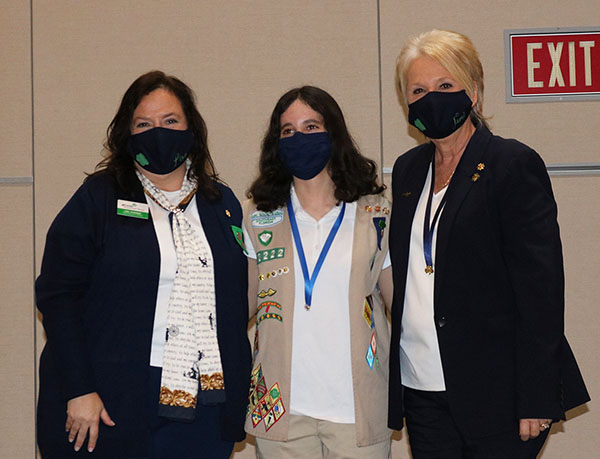 Recently, the Girl Scouts of Southeast Florida held its Silver Award Showcase, honoring the 2020 class of Silver Award Girl Scouts. Among the 82 Girl Scouts who earned their Silver Award this year, four of them are local residents who worked individually to complete three different projects benefiting their local communities.
Emily Gross from Troop 22222 created a Silver Award project entitled "Join a Feel Better Letter Making Session!" She hosted, set up and directed "Feel Better Letter" card-making sessions. Once the colorful, uplifting cards were created, she sent them to the nonprofit organization Smith Smiles, which pairs them with new, donated toys and sends them to children in various hospitals throughout the United States to bring them cheer during a difficult hospital stay. Additionally, Gross worked with the teacher in charge of the Emerald Cove Middle School Art Honor Society to hold card-making sessions several times per year in order to keep the project going.
Also from Troop 22222 are Jenna Bierman from Wellington and Sydnei Borges from Royal Palm Beach, who completed a Silver Award project called "Adopt Don't Shop" to educate their classmates about adopting animals instead of buying them.
Kayley Dunn of Wellington from Troop 20119 created a project called "Bat Boxes," where she built bat boxes, designed a pamphlet, created a bitmoji classroom and produced a YouTube video to help educate the local community about the importance of the bat population.
The Silver Award Showcase, sponsored in part by the Gina Rose Montalto Memorial Foundation, allowed Girl Scouts to present their projects at a showcase-style event sharing with attendees what they learned and the impact their project made on their local community.
The Silver Award is the second highest award of the Girl Scouts of the USA, and the highest award that can be earned by Girl Scout Cadettes in grades six through eight. When Girl Scouts decide to work toward earning this award, they set out for meaningful change by identifying an issue, collaborating with others who care about it, building a team to help and working to improve on that issue in a measurable way. Earning the Silver Award means reaching way beyond what the world knows as "community service."
Girl Scouts may pursue this award as an individual or in small groups of up to five girls, and every girl dedicates a minimum of 50 hours to bring the project to life.
The Girl Scouts of Southeast Florida serves more than 8,000 girls in Broward, Palm Beach, Martin, St. Lucie, Indian River and Okeechobee counties. To learn more about becoming a volunteer or partner, call (561) 427-0177 or visit www.gssef.org.