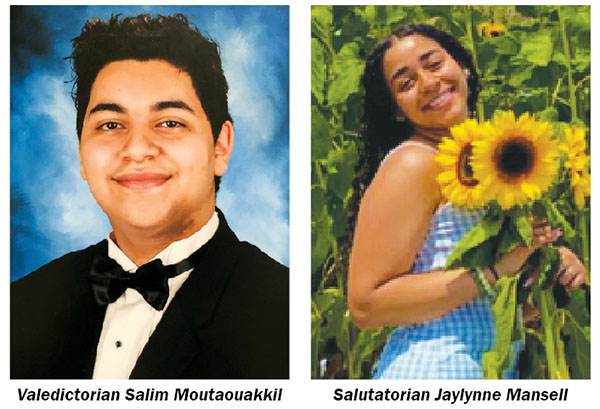 The 574 members of Royal Palm Beach High School's Class of 2021 will graduate at a ceremony to be held Tuesday, June 8 at 6 p.m. at the South Florida Fairgrounds Expo Center. While last year's graduation ceremonies were held virtually, this year's festivities will be held in person, although modified to allow for social distancing.
As is traditional, the ceremony will include an array of speeches, including from valedictorian Salim Moutaouakkil and salutatorian Jaylynne Mansell.
"We are back at the fairgrounds for commencement in the expo halls on the west side for the graduates and the east side for parents, with social distancing," Principal Dr. Jesús Armas explained. "The speeches will be on streaming video on the big screen, where the valedictorian and salutatorian will deliver their speeches. The live part is for the parents, who get to see the processional as they walk across the stage, just like we always do. We're not quite 100 percent, but we're getting back to normal."
Many missed the in-person aspect last year. Virtual was better than nothing, but it was not the same.
"The ceremony is important," Armas said. "It's like everything in all walks of life has been this year; we're standing on our heads making the best of it. Just like the hybrid teaching in the dual modality. It's all about the attitude."
Armas is proud of how the Class of 2021 handled a difficult set of circumstances.
"In the best tradition is this class," he said. "They are taking SAT tests with masks on, they had no prom, no homecoming — it affected their lives and their memories. All kids in this graduating class are great, they're really exceptional."
Armas said he was pleased that the school district was able to bring back some version of an in-person graduation. He is looking forward to hearing what the valedictorian and salutatorian have to say.
"Our valedictorian and salutatorian are personable and talented, and they worked hard and deserve what they have earned," he said. "They've also given back with hundreds of community service hours for each of them.
Salim Moutaouakkil — Moutaouakkil made valedictorian with a GPA of 3.9815 and a cumulative score with honors points at 5.4167. He lives at home with his parents and an older and a younger brother. He will be attending the University of Florida in the fall to study political science.
Moutaouakkil said he remembers the exact moment he decided he was going to try to be the valedictorian.
"I was at a party my freshman year, and I saw on my phone that I was fourth in the class," he said. "I decided to go for it."
Moutaouakkil is on the student council. He is vice president of the senior class and is a member of the National Honor Society.
"One of the challenges of the year was not being able to see your friends on a daily basis," he said. "As a class, we work well together. Individually, it was just me against a ton of work. That is how it seems when you're isolated."
An International Baccalaureate diploma candidate and a Cambridge AICE diploma with merit recipient, Moutaouakkil clearly did extremely well at RPBHS, taking in all the opportunities offered.
"If we learned anything as a society during the pandemic, the things we took for granted… don't!" he said. "Opportunities are fleeting. Pay attention to the little things. Cherish the time you have with friends. It will soon all be over."
Optimistic about the future of the world, Moutaouakkil said he has planned meticulously to become an attorney, then practice before getting involved in politics. "One human impacts everyone," he said.
Jaylynne Mansell — Mansell has a 3.96 GPA and a cumulative rating with honors points of 5.3. She lives with her parents, her older brother and four younger sisters. She will go to the University of Miami as a pre-med major.
"I was not too concerned with trying for valedictorian or salutatorian in the ninth grade, then in tenth, I started trying a little harder when I found out where I was ranked in my class at that time," Mansell said.
Mansell has been involved with the National Honor Society, the Spanish Honor Society and the English Honor Society. She participated in varsity soccer as a goalie. She also worked outside of school and has been active working with the Girl Scouts.
"It was a difficult year," Mansell said. "One of the challenges this year was trying to focus when you're not busy physically. In class, it's hard online. You can achieve focus if you try and have the will power."
On a scale of 1 to 10, how optimistic is she about the future of the world? "I would say 9.2, but things are changing," Mansell said.
She has this advice for those who come after her: "Don't stress too much and take it day by day. Keep up with your assignments and stay positive."