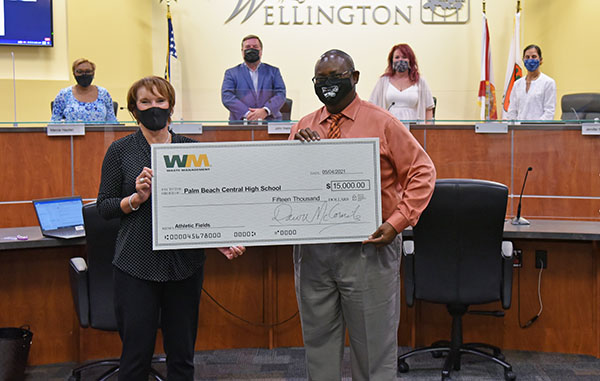 During Teacher Appreciation Week, the Wellington Education Committee met Tuesday, May 4 and hosted Waste Management Inc. representative Dawn McCormick, who came with some big checks.
The committee announced the recipients of the 2021 Waste Management Inc. Wellington Environmental Scholarship awards. Board Chair John Webber said that the scholarship is for seniors with high achievements and high grade-point averages.
"Waste Management is proud to be your waste management provider and partner," McCormick said, as she distributed checks for the scholarship recipients and grants for school equipment and books for Wellington-area schools.
The winners of the first place $1,500 and second place $1,000 scholarships from Palm Beach Central High School are Diane Altidor ($1,500) and Britney Nguyen ($1,000). The Wellington High School winners are Amanda Ng ($1,500) and Graceanne Barksdale ($1,000).
In other business:
• It was reported that the annual grades assigned to each school will take a hiatus due to the pandemic, with the exception of a school that had a poor ranking and improved and would like to petition to be graded. State and local assessments will be held this year. Summer school will open with in-class learning offering students the opportunity to catch up and advance where needed. As for graduation ceremonies, the Class of 2021 will get to have an in-person graduation event, although the ceremonies will be modified for social distancing.
• Some technology implemented during the pandemic will be retained, as it has improved efficiency and effectiveness. Examples were Zoom-style meetings that allowed faculty to mentor teachers from other schools when they would never have had time to drive and be there in person, as well as electronic bathroom passes on cell phones to maintain a record of who is where and when.
"Zoom has been used for meetings during the pandemic, but it has been so convenient that they may continue it for some of the special project meetings they have upcoming," Committee Member Marcia Hayden said.
• Webber asked that a method be explored to offer praise to local educators for their patience and efforts over the past year.
"Please confirm with the village manager and see what kind of recognition ceremony might be planned to thank all the educators and support staff for their efforts during the pandemic," Webber said.
• Community Services Director Paulette Edwards expressed appreciation to her staff. "I want to thank you all who have been so supportive of the whole educational process," she said, noting that the Palm Beach County Sheriff's Office went house to house during the beginning of the school shutdown to encourage students who hadn't signed in to attend online classes and to help them get set up if they needed it.
• School Board Member Marcia Andrews gave a brief statement thanking local teachers. "Thanks for everything you do to support our children," she said. "Our children have been through a lot with this pandemic in our schools, and we are trying to keep everyone safe. We all must work together to stay safe and to get through this together."