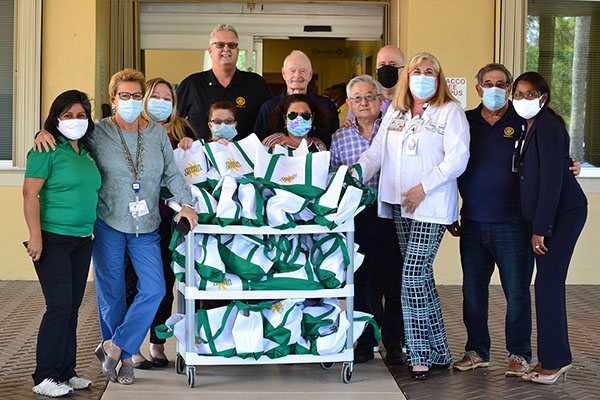 Florida Crystals recently partnered with a team of volunteers at the Wellington Rotary Club to celebrate more than 500 nurses at Palms West Hospital to kick off Nurses Appreciation Week.
Working with Wellington's Rotarians, Florida Crystals' volunteers assembled tote bags with donations of the company's locally grown rice and its Florida Crystals Organic Raw Cane Sugar. Through its partnership with another Palm Beach County grower, Hundley Farms, Florida Crystals also donated 2,000 ears of sweet corn grown in the Glades. More than 4,000 pounds of locally grown food reached deserving Palms West Hospital nurses.
"When the Wellington Rotary Club asked us to partner with them to honor the nurses of Palms West Hospital for Nurses Appreciation Week, we jumped at the opportunity to recognize such a worthy group of professionals who give back every day to our community," said Caroline Villanueva, Florida Crystals South Florida external affairs manager. "These nurses have been at the forefront of the fight against COVID-19, and we can't thank them enough for their time and commitment in taking care of our neighbors."
Wellington Rotary Community Service Chair Maggie Zeller said her group was overwhelmed and pleased by the donation. "Florida Crystals went above and beyond," Zeller said. "We know we can count on them to answer our call when we need help."
To fill the 500-plus reusable tote bags, half a dozen Rotarians worked with Florida Crystals employees Shiva Ahrens, Andy Sauber and Kristina Webb. Club members then filled their cars to form a caravan to the hospital, where Florida Crystals' Cody Beard and Villanueva were waiting with the sweet corn.
Nurses picked up their bags on Friday, May 7 as they received free massages courtesy of hospital administration. "We appreciate the thoughtful and very generous donation that Florida Crystals provided our nurses in recognition of National Nurses Week," Palms West Hospital Chief Nursing Officer Sheila Sanders said.