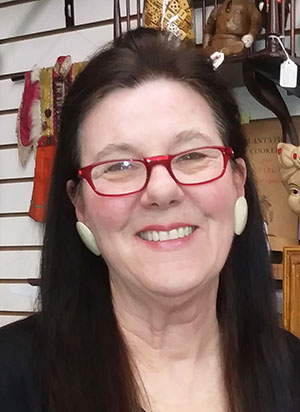 THE SONIC BOOMER
When I first got my antiques store, I noticed that everyone "in the biz" had a bad back. I correctly guessed that moving furniture for a living had taken its toll.
So, I was happy to be the one who was able to shove stuff around, arrange it my way, bring in new stuff, haul out the old.
This was especially amazing since I exist on a diet of cheeseburgers, French fries and soda pop. (You've heard of the California Diet? This is the Wisconsin Diet — a diet usually topped off with ice cream or a beer.)
But all this has been written in the past tense, since now I have crinked my back and have joined the ranks of Les Misérables.
People usually say, "I don't know how this even happened! I was just reaching for a towel!" But I know exactly how it happened. I had spent 20 hours in the car, sitting in one position, and then I thought I'd just hop out and unload the trailer, starting with a 50-pound cast iron dumbbell (the coolest thing — my customers will love it!).
So, I reached down, twisted to the left and… crink!
That was five days ago. The incident was topped off by my eight-year-old grandson, happy to see me and hugging me madly, lifting me off the ground to show me how strong he had gotten in the six weeks I was away.
Ouch!
So the last week has been spent going to the chiropractor, doing stretching exercises, sitting around on ice and saying, "Ow, ow, ow."
The trouble with a back problem is that you do have good days, and then you think you are "all better" and do something stupid.
My chiropractor made me feel so much better that, the next day, I cleaned the gutters and raked the back yard. Bad idea!
When I went back and told him I still had to finish unloading the trailer, he said, "See you tomorrow." He was right. The man is a miracle worker, but I need so many miracles.
My husband, Mark, who has a back so bad that half of it has been replaced with metal, said, "I hope you didn't slip a disc." A statement that scares me and makes me tense up and say, "Ow, ow, ow!"
Now the logical thing to do is go to my regular doctor and get an x-ray and see what's going on in there, but I have a scheduled appointment with her next week and don't want to "bother" her before that. I get that from my dad, who had a heart attack one Saturday and waited until his scheduled appointment on Monday to tell anyone about it. We're hearty, but rather stupid.
Now, here's my sage advice for anyone wanting to avoid this scenario for themselves — eat healthy, exercise regularly and don't over-extend yourself. Take care of your body and it will take care of you. I had been told this advice all my life, and here's what I heard: "Blah, blah, no fun, blah."
So now I have had to hire someone to unload the trailer, and that pains me almost as much as my back. I'm a big do-it-yourselfer.
But here's what I'd rather be doing myself — walking upright. We live. We learn.