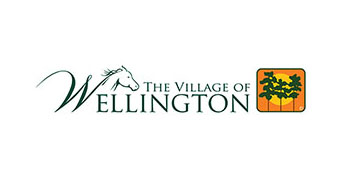 Wellington's Public Safety Committee heard reports Wednesday, June 23 from the Palm Beach County Sheriff's Office and Palm Beach County Fire-Rescue, and learned more about the new flashing yellow arrow signal in the community and the dangers of hydrogen-producing golf cart batteries that can cause explosions.
The meeting opened with a presentation by Assistant Village Engineer Patrick Barthelemy regarding the new flashing yellow arrow signal at the intersection of Greenview Shores Blvd. and Wellington Trace.
The signal, which has been confusing for some, gives drivers more opportunities for making left-hand turns. The flashing yellow left-hand turn arrow means you can turn left but do not have the right of way.
Barthelemy explained that drivers know that a solid green arrow means left-turning drivers have the right of way after checking for pedestrians and others in the cross walk. A steady yellow arrow is a warning that the left-turn light is about to turn red, which means drivers must stop or clear the intersection.
Now at the light, the green left-turn signal is displayed at the end of the sequence and not at the beginning to give pedestrians, who have the right of way, a chance to clear the cross walk. When the yellow is flashing, drivers can turn, but must yield to pedestrians and oncoming traffic.
"Whoever thought of this deserves a Village of Wellington golden horse head for such a great idea," Committee Member Richard Christmas said.
Barthelemy said that the installation fee for the new traffic equipment was $18,000 to install at all four sides of the intersection.
PBSO Annual Report —PBSO Lt. Eli Shaivitz presented a summary of the agency's annual report and was available to answer questions. It showed that Wellington is at the bottom or near bottom of the statistics in the number of each category of crime when compared to similar-sized communities in South Florida.
Shaivitz explained that during the pandemic, vehicle crashes were down, and that in 2021 so far, the Operation Bent Metal program has the objective of keeping them down.
"Bent Metal is designed to keep traffic accidents down. We make a lot of stops, but not necessarily a lot of tickets are written," Shaivitz explained.
Committee Vice Chair Mohammad Junaid Akther asked about the diversity of the personnel of the department, as the village grows and becomes home to new residents with more diverse backgrounds. Shaivitz answered that the PBSO's hiring practices put a focus on diversity, and that staff takes courses on diversity as well.
Another question concerned burglaries, and Shaivitz said homeowners should always use their alarm systems.
"The biggest challenges we face when we go to investigate a burglary is that the homeowner had not turned the unit on, perhaps thinking they were only going out for a short time," he said.
He added that burglars who have been caught explain that they use binoculars to look through windows and see if the light on the alarm panel is green or red.
Shaivitz added that if a resident sees something that the PBSO should be alerted about, such as threats on social media, they should call the non-emergency PBSO number at (561) 688-3400.
Fire-Rescue Annual Report — PBCFR District Chief Tony Tozzi said that many things go into the length of time it takes for his agency to respond to emergencies. Some things can't be controlled, like the weather, the traffic, the time of day and where the necessary equipment is.
One thing that can be controlled is the time to roll out, from the call until the equipment is on the way, and he is proud to say PBCFR crews have shaved precious seconds off that figure to just over 50 seconds until they are heading out to help the community member who needs it.
Golf Cart Battery Warning — Fire Marshal David DeRita warned residents to keep an eye on overheated golf cart batteries while recharging them. He explained that recharging golf cart batteries can get very hot, can boil off water in their cells and produce hydrogen gas, which can explode violently and cause damage or a fire.
His department has produced a public service video and a brochure explaining the potential dangers and is on an outreach mission on the subject. The team has attempted to speak with local homeowners' associations and have experienced pushback. "They see 'fire marshal' and think citations," DeRita said.
Therefore, he is starting with community presentations, such as the one to the Public Safety Committee, in an effort to reach out to village residents.
"With this new golf cart ordinance and an affluent community, there are going to be a lot more golf carts and people who need to know about the potential damage caused by not following some simple rules when recharging," he said. "We are happy to speak to groups in communities all over the county."
All golf cart owners should pay close attention to the safety instructions regarding recharging.
"Just a little spark of electricity — such as the automatic garage door opener being activated — can start a fire in the garage, and it doesn't take very long until it is burning the whole house," DeRita said. "To follow safety precautions for charging golf cart batteries just requires a little bit of responsibility."