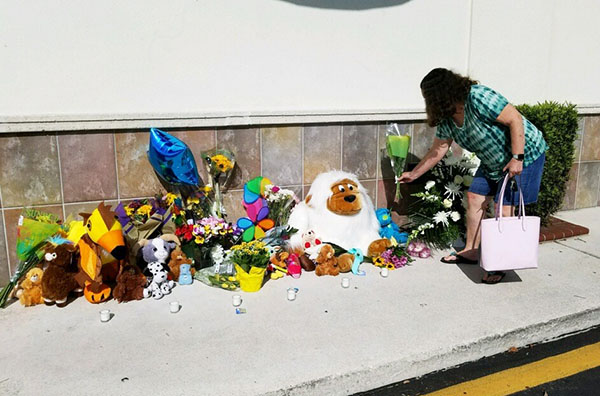 The Royal Palm Beach community is mourning the death of a 69-year-old grandmother and her one-year-old grandchild killed in a spurt of gunfire in the produce section of the Publix store in the Crossroads Plaza on Royal Palm Beach Blvd. at approximately 11:30 a.m. on Thursday, June 10.
Also found dead at the scene was the gunman, identified by the Palm Beach County Sheriff's Office as Timothy Jameison Wall, 55, of Loxahatchee. According to a PBSO timeline released Friday, the suspect shot the child first and then struggled with the woman before shooting her. He then shot himself.
While the investigation is ongoing, the PBSO has not found a link between the shooter and the victims. The shooter, however, was reported as acting erratically and making threats on social media, prompting Palm Beach County Sheriff Ric Bradshaw to make a plea to everyone to be more proactive in reporting such threats and erratic behavior to authorities.
A makeshift memorial has sprung up at the site of the shooting featuring toys, flowers and candles.
Royal Palm Beach Mayor Fred Pinto released a statement mourning the victims and thanking first responders for their swift response.
"On behalf of all the residents of Royal Palm Beach, I want to thank the men and women of both the Palm Beach County Sheriff's Office and Palm Beach County Fire-Rescue for demonstrating in real time why our decision to entrust our safety in their hands is well placed," Pinto said.
He also urged people to report suspicious behavior.
"The question is could this have been prevented? I don't have the answer to that question. However, what I do know is that in a society where access to a gun — whether legal or illegal — is so easy, we all have a shared responsibility. If we choose to allow such easy access, then we must take on the responsibility to sound an alarm if we suspect someone with that access is in crisis," Pinto said.
See Pinto's entire statement below.