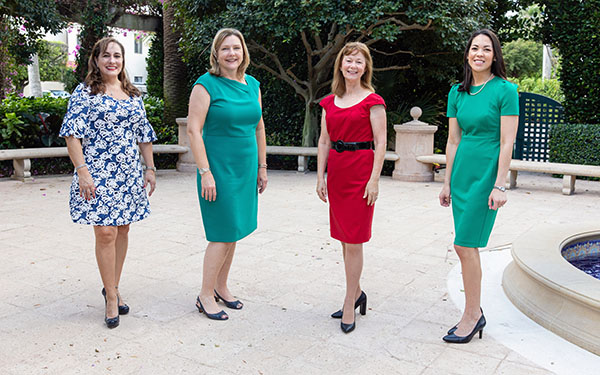 More than 250 sponsors, nominees and guests participated in the Executive Women of the Palm Beaches Foundation's 37th annual Women In Leadership Awards (WILA), a virtual celebration launched via YouTube on Friday, April 30.
The event presented awards to Natalie M. Alvarez (Volunteer Sector), Dorothy Jacks (Public Sector), Bridget Berry (Private Sector), Renee Layman (Nonprofit Sector) and Lauren R. Whetstone (Emerging Leader).
In partnership with keynote speaker Joi Gordon of Dress for Success Worldwide and the Palm Beach affiliate of Dress for Success, EWPBF donated a $5,000 honorarium to the organization as part of the event. In addition, WILA attendees donated 19 business suits and more than 30 pairs of shoes, 24 handbags, undergarments and makeup in a drive-up donation event.
"With the reduced capacity to collect donations of items and funding over the past year, Dress for Success Palm Beach is extremely grateful to have the support of the Executive Women of the Palm Beaches and many women entering or returning to the workforce will benefit from this unique collaboration," said Mary Hart, CEO of Dress for Success Palm Beach.
The signature fundraising event for Executive Women of the Palm Beaches, WILA raised $65,000 to provide scholarships, grants and leadership programs for deserving women and girls in Palm Beach County. "Only through the generosity of our sponsors, members and guests were we able to reach our goal and continue our mission of empowering women to succeed and lead," EWPBF President Trudy Crowetz said.
Since 1983, the event has raised more than $850,000 to support young women in Palm Beach County pursuing dreams of a college education and to support girls and women in need in the community through community impact grants.