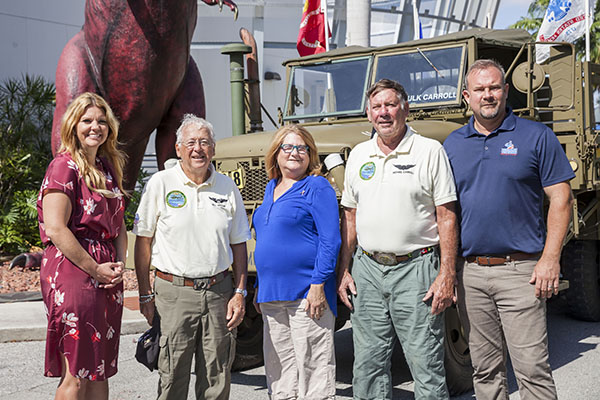 The South Florida Science Center is honoring military service members, veterans, first responders and their families by hosting Hometown Hero Appreciation Day this month.
Happening Saturday, June 19 from 9 a.m. until 3 p.m., those with valid military service IDs or first responder employee badges and up to four guests will be treated to a special day full of military vehicle demonstrations, a barbecue, a meet-and-greet with local armed forces members, a mini golf tournament, live science shows, exhibit exploration and much more.
"As a United States Naval Academy graduate, I am passionate about the armed forces and I wanted to give my fellow military service members a day to remember," said Kate Arrizza, president and CEO of the Science Center. "We welcome everyone to join us but want to provide a special free day for armed forces members and our local first responders."
While the event is free for those who qualify, pre-registration is required, and applicable ID will be required to redeem tickets. The barbecue is free to heroes and their guests but is available for the public to purchase for $5 each. Heroes should register their group in advanced at www.sfsciencecenter.org/heroes.
A mini golf tournament will also take place on the center's award winning 18-hole Conservation Course and is open to all ages. A separate registration link can be found on the main event web page.
Paid tickets will be offered to the public and proceeds will benefit Forgotten Soldiers Outreach and the Wounded Veterans Relief Fund. Forgotten Soldiers Outreach supports America's deployed military service members with "We Care" packages to ensure they are not forgotten. Wounded Veterans Relief Fund provides emergency financial support to qualified disabled veterans living in Florida, helping them transition into civilian life and keeping their families together.
Project 425, based in Loxahatchee Groves, will be providing several military vehicles for guests to see and explore. Their mission is to collect and display retired military vehicles to keep alive the memory of aircrews' services in Vietnam.
Sponsors for Hometown Heroes include the Big Heart Brigade, Document Storage Systems, EDS Air Conditioning, FingerTech Robotics, Holyfield & Thomas, Humana, Lesley and Rick Stone, PBKC, PNC Bank, the Rooney's Golf Foundation and Witch Doctor Junior.
The mission of the South Florida Science Center & Aquarium is to "open every mind to science" and the indoor/outdoor venue features more than 100 hands-on educational exhibits, a 10,000-gallon fresh and saltwater aquarium, digital planetarium, pre-K focused "Discovery Center," the 18-hole mini golf course and quarter-mile outdoor science trail. The newest addition includes a $2.5 million permanent exhibit, "Journey Through the Human Brain" and features the most advanced neuroscience research and technology in the world.
Admission to the South Florida Science Center & Aquarium is $17.95 for adults, $13.95 for children ages 3 to 12 and $15.95 for seniors aged 60 and older. Science Center members and children under 3 are free.
The facility is located at 4801 Dreher Trail North in West Palm Beach. For more information on Science Center programming, call (561) 832-1988 or visit www.sfsciencecenter.org.