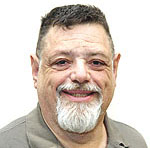 'I' ON CULTURE
I loved In the Heights. How about that for a quick review? After watching too much television and a handful of not-so-great films over the past year, we finally have a film that is bursting with life. There are no witches, no superheroes, no mass killers, no monsters. All we have is a neighborhood poor in money but rich in love and connections to each other.
Adapted from the Broadway musical of the same name with songs by Lin-Manuel Miranda, the film was actually shot in Washington Heights, the way uptown area of Manhattan right by the George Washington Bridge. I spent some of my youth there and was able to recognize some of the buildings. I even swam at the Highbridge Pool, the site of a fun water dance number.
The plot takes place a few days before and after a fictional blackout during a really hot New York summer. Our hero is Usnavi (Anthony Ramos), who got his name after his parents saw a "U.S. Navy" ship as they first sailed into New York. He owns a bodega, a store from which he sells coffee, lottery tickets and a lot of necessities for people in the community. But he has a 'little dream," a sueñito, that he can go to the Dominican Republic, which he's only visited on vacations, and take over a beach shop, as his father had. On the other hand, he pines for beautiful hairdresser Vanessa (Melissa Barrera), who has her sueñito of becoming a fashion designer. His young cousin Sonny (Gregory Diaz IV) is undocumented and dreams mainly of being allowed to stay in this country. And they are overseen by Abuela Claudia (Olga Merediz), an elderly woman who helped raise them and acts as a sort of grandmother to the entire neighborhood.
We also have Kevin (Jimmy Smits), who runs a car service, which he partly sold so he could pay for tuition at Stanford University for his daughter Nina (Leslie Grace), who has decided to quit going there because of the racism she has faced. And she has also taken a fancy to Usnavi's best friend Benny (Corey Hawkins), a dispatcher working for her father.
The dreams are real but clearly will collide, and that is where the plot of the movie comes in. Unfortunately, that is the weak spot of the film. Most of the moves seem just a bit too pat. But it really doesn't matter because every time things slow down a bit, there is a musical number. And many of them are incredibly good.
I admit to not being a big fan of rap. I hesitate to call it music, but then again I remember my parents having the same opinion of rock 'n' roll. But there are many different types of music here, including some rousing Latin dance music and lovely ballads. They are handled wonderfully well.
There were some real high points: Benny and Nina do a charming love ballad early on and a great dance borrowing from Fred Astaire later. There is also the funny, incredibly large scale Busby Berkeley-style dance number in the pool. There was a great bit of Latin dancing as local residents, all sweltering from the heat and the lack of air conditioning, had an informal dancing competition with groups from the many Latin countries represented in the area. Director John Chu deserves at least an Oscar nomination for the free-flow of all the action.
The cast is marvelous. Ramos has enormous charm to go with his talent. Barrera not only sings and dances wonderfully well but has a smile that can light up a theater when she uses it. Merediz is great, and I thought young Diaz did a fine job. Smits managed to handle his tricky part well. Hawkins and Grace are wonderful as the loving couple. He not only raps well but handles love songs and even dances well. She does just as well and is one of the most stunning young women I have seen on the screen in years. Even the people in small parts do really well, including Miranda himself as a street vendor.
Some people enjoy pointing out how great it is that we have a whole cast that is Latino. Yes, and considering how marginalized they've often been, that is great. But after a few minutes, you'll forget about that and realize they're simply people, really wonderful people in a movie that will entertain you more than most of what we've seen for a long time.