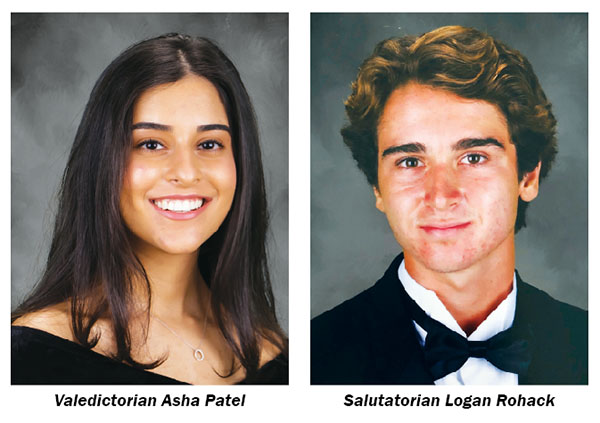 After more than a year of challenges, Palm Beach Central High School's Class of 2021 will receive diplomas in-person at the South Florida Fairgrounds during a live ceremony starting at 8 a.m. on Tuesday, June 15.
These resilient students stepped away from campus for spring break in 2020, and many never returned to campus full time. The ceremony will be the first time the entire graduating class has been together since before the pandemic.
"We are absolutely elated to be having a live graduation," said Principal Darren Edgecomb, who explained that last year's was filmed in advance and everyone watched from home. "I'm extremely proud of the kids because we have about 750 seniors who have been so consistent. I anticipate that our graduation rate will remain at 98 percent, if not go higher. These students have just endured so much throughout the year."
Edgecomb reflected on the surprise of heading out for spring break a week early last year, with students never returning to campus. He has been able to see some students attending extracurricular activities, but most of his interaction with the Class of 2021 has been on a virtual platform.
"I'm just thrilled that I'm going to be in a room with 700-plus kids and get to see them face to face and hand them their diplomas," he said. "The biggest way I've seen them this year is when they've tested, but this will be the first time I'll really get to see the entire class."
The modified graduation will include a procession of students along the red carpet in the beginning, when families can take photos, then the students will be seated together in the west wing of the building. Guests will be seated at the east wing of the Expo Center, socially distanced in pairs. Masks are required to attend. Every student received two tickets for guests, while the top 20 students received an extra pair of tickets. Remaining tickets were given to randomly selected students.
Speeches will take place in front of the students, who are in a separate room from guests. These will include the traditional speeches from Edgecomb, valedictorian Asha Patel, salutatorian Logan Rohack and others.
Guests will watch the speeches on a big screen. Then students will march through the building again to receive their diplomas from Edgecomb in front of their parents and guests.
"They are resilient and have accomplished so much with so many barriers. This class will definitely go down in history as the class that led the way in helping us innovate at the school," he said. "Their ability to transition and be flexible, to build the plane in the air, has made the staff and the school better. They came through this dark place and made it through. They are very proud graduates of Palm Beach Central, and they are leaving a tremendous legacy."
Edgecomb also arranged for a special parting gift for the students — a special Class of 2021 PBCHS face mask for all 750 seniors as one last memento of their unique accomplishments.
Valedictorian Asha Patel — Patel is a National Honor Society and National English Honor Society member. She is graduating with a GPA of 4.0, and her cumulative score with honors points is 5.5645. Patel is also involved in charity work for the Dance Marathon and Palm Beach Central's Homecoming Committee. After devoting the past four summers to extra classes and schoolwork, Patel will take this summer off before attending the University of Florida in the fall to major in sociology.
"The biggest challenge during the pandemic for a lot of students was staying mentally healthy. For me, it was especially difficult to maintain the motivation I had for school when I was learning in front of a screen. We've had to work even harder to keep ourselves strong, given the circumstances," Patel said. "My best advice would be not to lose sight of the things we are passionate about. Those who make time for their passions are the ones who truly live happy, successful lives."
While many school activities, particularly senior-focused events, were lost to the pandemic, Patel wanted above all else to walk in person with her fellow classmates.
"It was especially difficult to organize a ceremony this year, and I am extremely grateful to be able to walk across the stage, regardless of the circumstances," she said.
Salutatorian Logan Rohack — Rohack has a GPA of 4.0, which raises to a 5.283 with honors points. He represented PBCHS on the varsity golf and lacrosse teams. Beyond athletics, Rohack is also a member of the National Honor Society. He plans to spend the summer working and enjoying his remaining time in Wellington before heading to the University of Florida in the fall.
"Aside from the obvious things we missed out on, like prom and homecoming, I think not having the smaller things — like just being at school with friends — was challenging," he said. "The reality is our senior year is mostly the things we do every day with our friends."
While at PBCHS, Rohack particularly enjoyed participating in the Dance Marathon and also making first team all-region for lacrosse.
He appreciates the chance to see his classmates in person at the ceremony.
"While it's not exactly how I envisioned graduation, it's close enough to it. Modified graduation is better than online graduation. I am just grateful to get to speak in person after being on a computer all year," he said.
His advice for fellow students? "Prepare for the worst, and hope for the best," Rohack said. "I live by that."