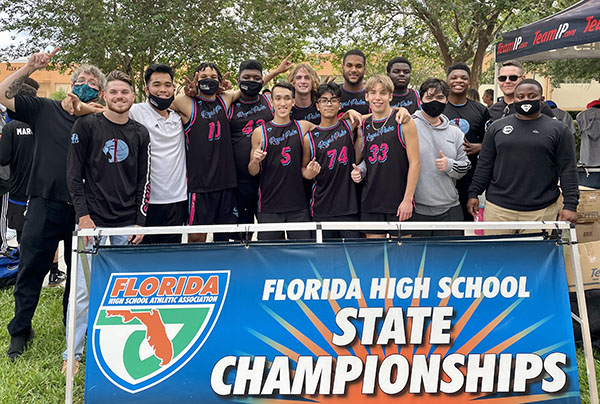 For the first time in school history, the boys volleyball team from Royal Palm Beach High School advanced to the Florida High School Athletic Association's state finals. The Wildcats had a bittersweet end to what had been a perfect season, falling to eventual state champion Freedom High School from Orlando in the state semifinals.
For boys volleyball, the top eight high school teams in Florida advanced to the state finals, which were held at Archbishop McCarthy High School in Broward County's Southwest Ranches. The state quarterfinals were held Friday, May 14. In the quarterfinals, the Wildcats played a local rival Park Vista High School.
After losing the first set 25-21 to the Cobras, the Wildcats turned the table on Park Vista by capturing the next three sets, 25-21, 25-23 and 25-22. With the win, the Wildcats remained undefeated on the season with a record of 14-0. The top performers for the Wildcats were Thinh Vo with 23 assists, Christian Kollar-Dye with 31 kills, Vicente DeBrito with 15 digs, and six blocks by Owo Afariogun.
With that victory, the Wildcats advanced to the state semifinals and were one of four teams left in the FHSAA state volleyball tournament.
The following day, Saturday, May 15, the Wildcats faced the Freedom High School Patriots (28-2). In the game, RPBHS volleyball coach Salvatore Ciano wanted his players to do their best, but he also wanted them to enjoy this special moment in their high school volleyball careers.
"I told them that we needed to play as one team, play hard, to not give up, and — most importantly — to enjoy this moment," said Ciano, who played volleyball as a setter, right-side hitter and blocker at Palm Beach Atlantic University. "We also took a moment to reflect on the journey that brought us to that point."
In the game, the Wildcats met their match, falling to Freedom in three straight sets, 25-15, 25-19 and 25-16. In the match, the statistical leaders for Royal Palm Beach were Vo with 25 assists, Kollar-Dye with 15 kills and Jason Gonzalez with eight digs.
Despite the loss, Ciano was proud of his team's season-long performance. He realized a few years ago that the nucleus of this year's boys volleyball team was talented and had the potential do well.
"I have been working with this group for the last four seasons and have watched them grow as players and as a team," he said. "From the first practice, I knew we had a special group that could achieve great things as a team."
Like all successful high school athletic teams, much of the success of any team can be attributed to senior leadership. This year's Wildcats had seven seniors who led by example: Thinh Vo, Jason Gonzalez, Vicente DeBrito, Tai Vo, Marquis D'Haiti, Daniel Guzman and Christopher George.
Ciano had words of praise for his seven seniors.
Thinh Vo was named to the first team all-county by the South Florida Sun-Sentinel. Thinh played setter and outside hitter for the Wildcats.
"A senior and four-year veteran, Thinh's calm demeanor under pressure helped the team stay focused," Ciano said. "As a setter, he helped us run a high-powered offense, and as a hitter, he was consistently and routinely making big plays when we needed them most."
Gonzalez is a four-year letterman who played defender and passer.
"Due to Jason's effective and efficient passing, we were able to run an effective offense," Ciano said. "Jason was not only one of our premier defenders and passers, but he was also an incredible outside hitter and blocker for us. His plays at the net were often clutch."
DeBrito is a soccer player who realized he was good at volleyball, too.
"Vicente wandered into the gym one day after soccer season ended and wanted to try out for the team," Ciano said. "Three seasons later, we still talk about how easily the game came to him and how awesome he was as the other half of our serve, receive and defense as our starting libero."
Tai Vo played a key role for the Wildcats. "Tai was another defensive specialist and server for us," Ciano said. "His tireless work ethic was an inspiration to his teammates."
D'Haiti played in the middle and on the right side. "Marquis is a hard worker and a great teammate, bringing high energy to practice and to the games," Ciano said.
Guzman was another specialist for the Wildcats. "Daniel was a defensive specialist for us this season," Ciano said. "He passed well and worked well with our other backcourt players."
George joined the team late in the season but picked up the game quickly.
"At 6-foot-7, Christopher caused quite a stir with his ability to absolutely shut down outside and middle hitters," Ciano said. "Though he was only able to play the last half the season due to injuries, he made an immediate impact, averaging five blocks a game."
The other players on the team will provide a strong foundation for the squad next spring.
Kollar-Dye was one of Royal Palm Beach's top players, letting his on-court talents speak for themselves.
Kollar-Dye was named player of the year for Palm Beach County by the Sun-Sentinel, was selected as Player of the Week for MaxPreps and the American Volleyball Coaches Association.
"Christian was one of our leaders and strongest players," Ciano said. "As a setter and hitter who could generate powerful kills from all three positions, Christian helped us control the pace of play, and his leadership helped to guide the rest of the team each match."
Nicholaus Gooden is a talented player who leads by example. Gooden was named to the first team all-county by the Sun-Sentinel.
"Nick played middle for us," Ciano said. "He brought speed and power that allowed our setters to really get him involved, which created mismatches at the net. As a blocker, he was always a threat, and his high level of play at the net consistently kept us in matches."
Nathaniel Gooden is a hard worker and one of the Wildcats' key utility players. "Nathaniel played a variety of positions over the course of the season, and he did so with every ounce of effort he could give us every time," Ciano said.
Owo Afariogun was another key player in the middle for the Wildcats. "Owo's combination of speed and power made him a nightmare matchup for many teams," Ciano said. "He is a consummate teammate, always trying his hardest and working to keep the team's level of play high when he is on the court."
Freshman Sean Tyson is one of Royal Palm Beach's serving specialists.
"Sean shows great aptitude for playing defense and for serving," Ciano said. "He was one of most effective and efficient servers this season."
The performance of this year's boys volleyball team at Royal Palm Beach High School may well pave the way for future success within the Wildcat program.