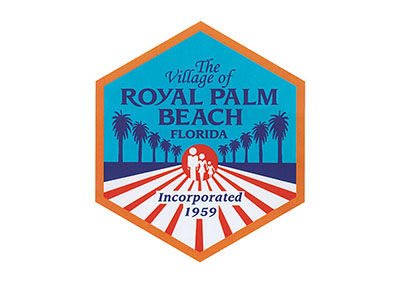 Royal Palm Beach staff and advisory boards recommended denial of a variance that would delete the requirement that the 35-foot-tall power distribution lines within the new Tuttle Royale development be buried. However, developer Brian Tuttle took another bite at the apple at the Thursday, May 20 meeting of the Royal Palm Beach Village Council.
As he did at the Planning & Zoning Commission meeting in April, Tuttle complained that the situation was unfair, since older developments did not have to bury power lines, and unnecessarily expensive. This time, his arguments prevailed.
Tuttle said that the 35-foot-high distribution lines in question are on a huge easement beneath more numerous and taller transmission lines that are 85 feet high. They would not need to be moved or buried if he didn't connect to them — as he doesn't plan to do. The project gets its power exclusively from other lines on the property that are buried, so he is not responsible for any changes to the outdated wooden poles, which could top $500,000 in cost. Plus, FPL has plans to harden the poles in the next few years anyway at its expense.
Other nearby developments did not bury their lines, as that was not a requirement of the code when they were built, but the current code calls for it. Staff recommended following the rules.
"I'm accused of being a real meanie sometimes, but we have to go by what the rules say," Planning & Zoning Director Bradford O'Brien said.
Tuttle said that burying the lines is not necessary at this point either way.
"We have no plans to need these lines for five or 10 or even 20 years, but should, say, everyone have an electric car that charges at night, and residents need the extra power, the homeowners' association would be hit with a big assessment to pay for the burying," he said. "I am trying to do something nice for future residents."
Mayor Fred Pinto did see the issue from Tuttle's point of view.
"I don't want a future problem for people who buy into this and get hit with a big liability that they had nothing to do with," he said. "That future liability is not a good thing, and I don't want to be a part of that."
While the discussion was extensive, no members of the public offered any comments for or against burying the power lines, and the recommendation for a variance passed unanimously.
"I think we have made a decision tonight that will not create a burden on future citizens in this development," Pinto said.
In other business:
• The annual report for Palm Beach County Sheriff's Office District 9, which serves Royal Palm Beach, revealed that the community is coming to the end of a pandemic that necessitated a change in the way the department interacted with the community.
Crime remains low with a clearance rate some 50 percent better than the national average. The primary incidents continue to be theft from unlocked cars and vehicle crashes. Meanwhile, a request for proposals for body cameras has been developed to go out.
Pinto thanked the PBSO for its work. "We encourage you to keep up the good job you're doing to keep Royal Palm Beach safe," he said.
• The village presented 10 scholarships of $1,000 each to deserving village residents who are graduating from high school this year. "We really enjoy each year when we get to acknowledge the accomplishments of some of our high school students," Pinto said.
The scholarship awards went to: Graziella Dal Bon (A.W. Dreyfoos Jr. School of the Arts), Claire Gacel (Royal Palm Beach High School), Darion Johnson (Royal Palm Beach High School), Caleb Mackenzie (the Oxbridge Academy), Peyton Mainolfi (Royal Palm Beach High School), Erin McBroom (Royal Palm Beach High School), Salim Moutaouakkil (Royal Palm Beach High School), Eric Singleton (Royal Palm Beach High School), Jackson Spellman (A.W. Dreyfoos Jr. School of the Arts) and Finn Wilson (Suncoast High School).
• The council undertook its annual evaluation and merit pay action for Village Manager Ray Liggins.
The reviews were uniformly excellent, with all council members stressing that Liggins was responsible for the village coming out of the pandemic in excellent condition.
Liggins will be getting a 5 percent bonus, in addition to a 1.5 percent cost-of-living increase.