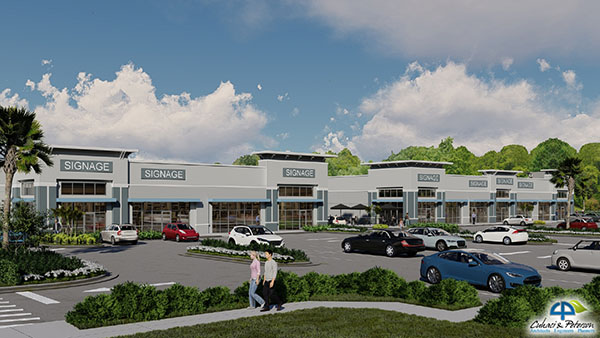 Commercial development continues at a rapid pace in the City of Westlake. Minto Communities, which is developing the 3,800-acre master-planned Westlake community, has designed a 50-acre business park called Westlake Landings to attract a strategic mix of commercial tenants to serve the growing population. The City of Westlake approved the plans in June.
Deerfield Beach-based Konover South, a premier retail real estate company, is contracted with Minto to acquire seven acres within the park to develop a pod of quick-service restaurants and two multi-tenant, open-air shopping centers — one 7,000 square feet and the other 9,450 square feet. Collectively, the area will be known as the Shoppes of Westlake Landings. It will be adjacent to a 7-Eleven convenience store and gas station currently under construction within the business park.
The Shoppes of Westlake Landings will feature a mix of service-related businesses and restaurants. Konover South already has commitments from a handful of tenants as it prepares to submit its building plans to the city.
"We have had our eye on Westlake since the very beginning," said Bob Bedard, senior vice president of development at Konover South. "We look forward to attracting some great businesses to the area so that residents will no longer have to travel a long way for basic services. I fully expect we'll be 100 percent leased up by next summer."
Minto is also under contract with a local developer to buy 5.75 acres to build a 107,290-square-foot self-storage facility, which has also been approved by the city. An investment group is seeking to buy a 14.5-acre parcel for an entertainment/sports concept, and a final section of Westlake Landings is set aside for a flex office/warehouse project on 17.5 acres. Discussions are underway with several interested developers.
"We wanted to create this mixed-use park to proactively plan for our commercial development activities in Westlake," Minto Vice President John Carter said. "Westlake Landings allows us to be more intentional in our approach and curate the right types of businesses to service our residents."
Westlake Landings is located on the corner of Seminole Pratt Whitney Road and Persimmon Blvd. Just to the north, Publix has submitted plans to the City of Westlake to build its own outdoor shopping center, Publix at Westlake Plaza, anchored by a 50,000-square-foot grocery store.
Other non-residential development in Westlake includes a second 7-Eleven store and gas station that is under construction across the street from Westlake Landings. The Palm Beach County Tax Collector's Office is currently building a regional service center that is planned to open later this year. Two years ago, Wellington Regional Medical Center opened a freestanding emergency room and subsequently acquired 35 more acres from Minto to develop a future medical campus.
The City of Westlake incorporated in 2016, and Minto commenced home sales one year later. The community is approved for 4,500 homes at build out.
Westlake is located at 16610 Town Center Parkway North, off Seminole Pratt Whitney Road. For more information, call (888) 299-3628 or visit www.westlakefl.com.