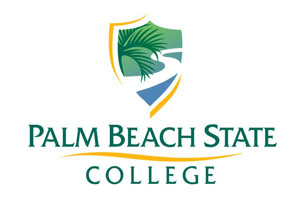 Palm Beach State College is among nine colleges and universities, and the only one in Florida, partnering in a new national research initiative that aims to address inequities in online learning in higher education.
SRI Education and the Community College Research Center at Columbia University's Teachers College are launching a research center with a $10 million award from the U.S. Department of Education's Institute of Education Sciences. They are partnering with these broad-access colleges and universities, as well as Achieving the Dream (ATD), a nonprofit national leader in championing evidence-based institutional improvement with a network of more than 300 colleges, to conduct research on how educational technology and instructional strategies can bolster students' skills for managing their own learning. Five of the nine institutions participating in the research, including PBSC, are members of the ATD network.
The new center will use findings from the research program to create professional development for higher education administrators, faculty and instructors. Ultimately, the goal is to improve teaching and learning so that all students have equal opportunities to excel in online environments.
"This is an incredible opportunity for PBSC to be at the forefront of research to help our students and those across the country," PBSC President Ava L. Parker said. "While we quickly transitioned our classes to remote and online learning last year because of COVID-19, online environments will continue to be a critical part of our course offerings for students. It is important to ensure they not only learn the course content but also have the study, planning and time management skills necessary to succeed in their classes."
Other participating institutions are Virginia State University, Bunker Hill Community College in Massachusetts, Calbright College in California, Macomb Community College in Michigan, Odessa College in Texas, Portland State University in Oregon, Tulsa Community College in Oklahoma and Wake Technical Community College in North Carolina.
The partners were chosen because they serve diverse student populations, are broad access institutions that accept more than 75 percent of applicants and they offer at least some foundational STEM courses online because that is where the research will be done at the institutions. They also represent diverse geographic areas of the country.
Serving 47,000 students annually, Palm Beach State College is the largest institution of higher education in Palm Beach County. For more information, visit www.palmbeachstate.edu.