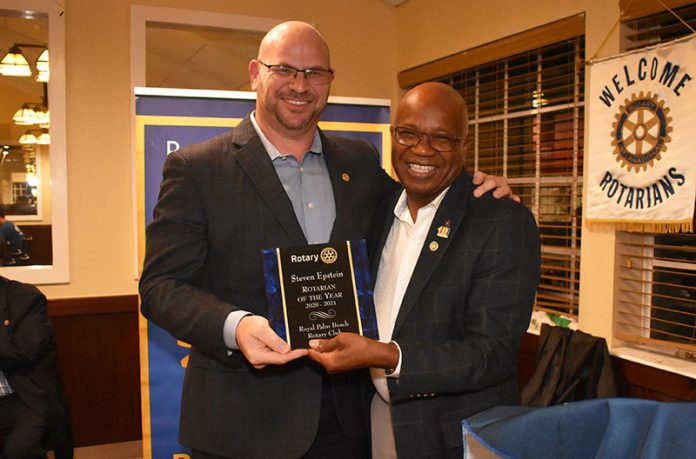 The Royal Palm Beach Rotary Club kicked off its 32nd year with the installation of new officers on Thursday, July 8 at the Golden Corral restaurant in Royal Palm Beach.
Outgoing President Michael Rose presented a summary of the club's accomplishments during his term. Rose also presented several certificates of appreciation to club members who went above and beyond during the year to serve the club and enhance the quality of life in Royal Palm Beach and the surrounding area. Among those Rose honored were Jeff Hmara, Lynn Balch, Dan Splain and Dr. Sarda Bhandary.
The Royal Palm Beach Rotary Club was chartered in 1990, and four charter members were present for the installation dinner — Dr. Randy Dugal, Lynn Balch, Joan Scherer and Tony Endler. Splain served as master of ceremonies for the evening and entertained the attendees with humorous stories. Charles Borg led the attendees in the Pledge of Allegiance.
Splain introduced Lorna Kernizan, former chief operating officer at Palms West Hospital and a longtime Rotarian. Kernizan was the guest speaker for the event. She focused her remarks on the continued relevance of the Rotary organization in the world today, noting Rotary's accomplishments in the last few years on an international and local club basis.
Internationally, polio was declared eradicated by the World Health Organization in 2019, largely due to the efforts of Rotary around the world. Locally, the Royal Palm Beach club succeeded in a partnership with a Rotary group in Jamaica in placing much-needed surgical equipment in Spanish Town Hospital near Kingston, Jamaica.
Additionally, the Royal Palm Beach club has led the effort in the community to provide food to more than 600 residents each week during the pandemic.
Hmara has spearheaded the effort over the past 15 months to hand out needed food at Royal Palm Beach Commons Park.
After her remarks, Rose presented Kernizan with gifts demonstrating the appreciation of the club for her years of service.
Past Rotary District Governor Eric Gordon, a past president of the club, installed the officers for 2021-22 year. Steven Epstein was installed as president, and he will be joined by President-Elect Dan Splain, Vice President Keith Jordano, Secretary Lynn Balch, Treasurer George Zahul, Sergeant at Arms Samuel Seymour and Past President Michael Rose as officers.
Epstein closed the evening with a pledge to grow the membership and involve more younger members in the affairs of the club.