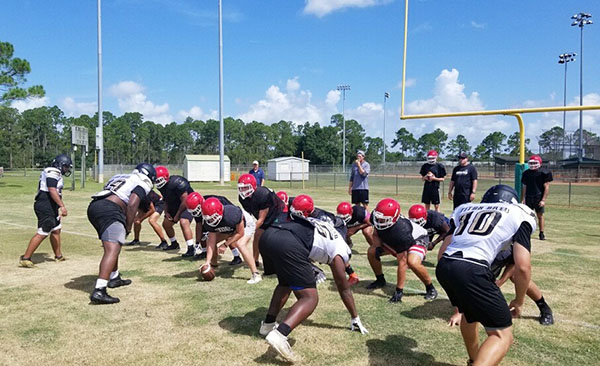 The Seminole Ridge High School football team recently got a head start on its preparations for the upcoming football season. On July 20-21, the Hawks, under the direction of head coach Rick Casko, participated in a two-day clinic with Treasure Coast High School at Acreage Community Park.
Because this was a two-day camp, organized by the Fellowship of Christian Athletes Palm Beach County (www.fcapbc.org), both teams were allowed to wear helmets and shoulder pads throughout the two days.
Besides giving the chance for each team to review many of their offensive plays and defensive schemes, there was a break in the action where players heard a short Biblical story that related to their lives as teenage student-athletes from local FCA Metro Director Greg Anderson. "Our mission is to lead coaches and players into a relationship with Jesus Christ," Anderson explained.
During Anderson's story, players rested in the shade, drank water and listened. Afterward, they were each given a Chick-Fil-A sandwich for lunch.
For Casko, he enjoyed the practice against another talented and skilled South Florida team, which his squad won't play in the regular season or the post season.
"Treasure Coast is a strong team and is always a playoff-caliber team, but it's in a different classification than we are," Casko said. "They have a great coaching staff, and we learn a great deal from one another."
It was a positive experience for the players, who were wearing their helmets and shoulder pads for the first time in months.
"We were able to work on a number of technique issues on both offense and defense," said senior Luke Davis of Seminole Ridge, who plays center on offense and linebacker on defense.
According to Davis, he learned a great deal by watching the Treasure Coast players after each snap.
"They were not that big, but they all had great technique that I noticed and learned from today," Davis said.
One thing that Davis was pleased to see was his squad's overall fitness. "I think our team's overall conditioning is pretty good," he said.
This fall, Seminole Ridge will open its season at Palm Beach Lakes High School in a pre-season kickoff classic on Friday, Aug. 20. The Hawks begin their regular season at home against Santaluces High School on Friday, Aug. 27. Both games start at 6:30 p.m.