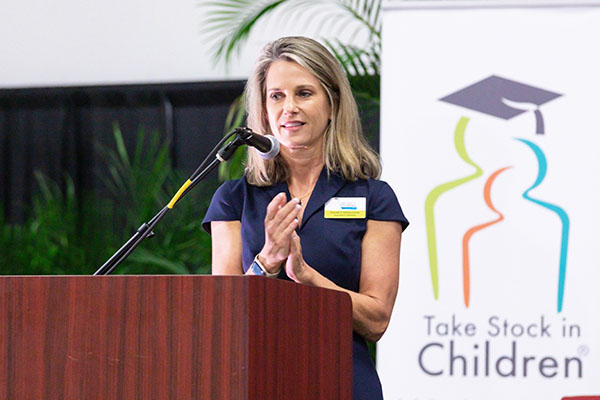 In its 26th year of working to break the cycle of poverty with a focus on education, Take Stock in Children Palm Beach County doled out nearly $1 million in scholarships to 111 graduating seniors from Palm Beach County schools.
In June, friends, family, volunteers, staff and dignitaries gathered at the South Florida Fairgrounds to celebrate the achievement, dedication to success and another change in the trajectory for students growing up in impoverished neighborhoods.
One-by-one, with smiles and pride, students walked across the graduation stage. Each was announced and awarded an earned two-year Florida prepaid scholarship. A highlight of the ceremony was the nonprofit's top awards to five unique seniors for exceptional achievement, who were recognized with a short video presentation and introduction by their mentors.
This year, Take Stock in Children Palm Beach County is once again celebrating a 100 percent success rate for the students it serves. Mentoring and college readiness programs are at work to further the nonprofit's vision to help children break out of the cycle of poverty that surrounds them with higher education.
"When our students cross the stage to receive their diplomas, scholarships and special awards, it is our proudest, most rewarding, celebrated moment," said Nancy Stellway, executive director of Take Stock in Children Palm Beach County and a Wellington resident.
Featured on the celebratory program were: Evan Bolinski, board chair of Take Stock in Children Palm Beach County; Robert A. Krause, CEO of the Johnson Scholarship Foundation; Superintendent Dr. Donald E. Fennoy II; Nancy Stellway, executive director of Take Stock in Children; Gbolade George, a college readiness specialist with the Johnson Scholars Program; School Board Member Marcia Andrews, a Take Stock in Children board member; and Deputy Superintendent Keith Oswald, a Take Stock in Children board member.
Will Hutcherson served as the event's keynote speaker, motivating students with encouragement to affect positivity and "flip the script" when life gets challenging. In a surprise tribute, Wanda Kirby of the Johnson Scholarship Program was honored for 35 years of service in the Palm Beach County School District.
Students who earned top honors were Dustin La Platte of Jupiter High School, Highest GPA Award; Ariel Betancourt of Glades Central High School, Most Improved Award; Woodarlie Toto of Glades Central High School, Persistence Award; Brianna Paniagua of Pahokee Middle-Senior High School, Outstanding Senior Award; and Osinachi Nwos of, Lake Worth High School, Best Portfolio Award.
"We especially cheer this year's graduates with the many unplanned and added challenges these amazing kids have experienced this year," Stellway said. "Throughout the course of four years, our dedicated volunteer mentors spend valued time getting to know these students personally, and are there for them at every stage and turn, providing academic and emotional support to foster each student's educational success."
Take Stock in Children impacts the community by bringing limitless opportunity to its young adults with the gift of education. You can strengthen your community by investing your time as a mentor to support students as a friend and role model, or make a donation to help fund resources critical to student success. Visit www.takestockpalmbeach.org to learn more.