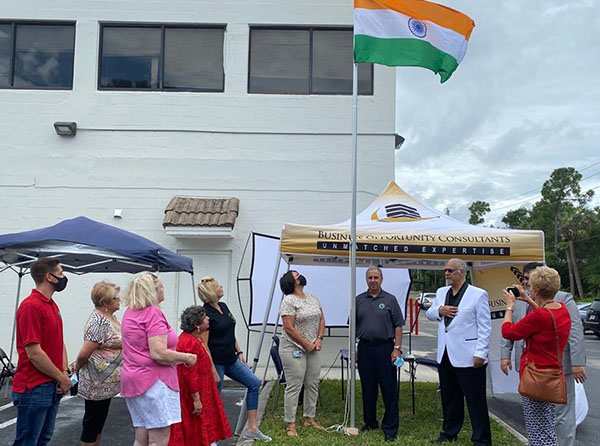 Kashmir Solidarity USA and the Indian American Festival Committee celebrated India's 75th Independence Day recently in Greenacres. India Independence Day is celebrated every Aug. 15 to honor the day when India officially gained its independence from British rule. Guests at the event were limited, and face masks and social distancing were observed in accordance with CDC guidelines.
Sandy Mistry, cultural coordinator for the Indian American Festival Committee, welcomed the guests Austin Lee of the Greenacres mayor's office, City Manager Andrea McCue and Councilman Jonathan G. Pearce. Pearce thanked Surinder K. Zutshi for his efforts and presented him with a proclamation from Mayor Joel Flores. Mistry thanked Flores for the proclamation, which proclaimed Aug. 15, 2021, as India Independence Day and also congratulated Zutshi for his work on bringing the Indian and American communities together, as well as his fight against global terror. Zutshi said that he wanted America and India to continue to work together as the two largest democracies in the world.
"Freedom is the birthright of every human, and to achieve it, we Indians had to strive very hard to get the yoke of British rule off our backs," Col. Romesh Kaul said. "Our freedom was achieved largely through non-violent means but had sacrifices of a large multitude of Indians."
Ravi Munshi, a community well-wisher, agreed. "It is a matter of immense pride for the Indian community across the world to celebrate India's 75th anniversary of independence on Aug. 15, 2021," Munshi said. "Committed to the protection and advancement of fundamental human rights, including the freedom of speech, closer ties between the world's two leading democracies couldn't have come at a better time."
Zutshi has long worked toward promoting Indo-U.S. relations as a commissioner of human rights in Hudson County, New Jersey. Zutshi was joined by Lee, McCue and Pearce in raising the Indian flag in order to celebrate the occasion.