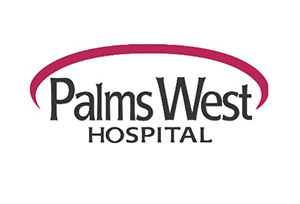 Palms West Hospital has earned the Joint Commission's Gold Seal of Approval for Advanced Primary Stroke Certification and the American Stroke Association's Heart-Check Mark for Primary Stroke Center Certification.
Palms West Hospital underwent a rigorous, unannounced onsite review in mid-June. During the visit, a team of Joint Commission reviewers evaluated compliance with related certification standards, including program management, supporting self-management, and delivering and facilitating clinical care. Joint Commission standards are developed in consultation with healthcare experts and providers, measurement experts and patients. The reviewers also conducted onsite observations and interviews.
"Advanced Primary Stroke Certification recognizes healthcare organizations committed to fostering continuous quality improvement in patient safety and quality of care," said Mark Pelletier of the Joint Commission. "We commend Palms West Hospital for using certification to reduce variation in its clinical processes and to strengthen its program structure and management framework for stroke patients."
The certification shows the hospital's commitment to stroke patients.
"We congratulate Palms West Hospital for this outstanding achievement," said Nancy Brown of the American Stroke Association. "This certification reflects its commitment to providing the highest quality of care for stroke patients."
Hospital officials are proud of this important designation.
"It is a great honor to be awarded Advanced Primary Stroke Certification. We are extremely proud of the expertise of our interdisciplinary stroke team who collaborate to quickly evaluate stroke symptoms and administer time sensitive treatments to help prevent disabilities and death," said Dr. Richard Giroux, chief of emergency medicine. "The award affirms the exceptional stroke care we provide our communities."
Palms West Hospital is a 204-bed acute care full-service facility combining high quality, patient-driven care and state-of-the-art technology to serve residents of Palm Beach County and beyond. The hospital employs nearly 900 employees, has a medical staff of more than 700 physicians and a graduate medical education program. It offers a full spectrum of inpatient and outpatient services, including 24/7 emergency care, stroke center designation, comprehensive surgical services, cardiac catheterization, an orthopedics and spine institute, and maternity services with a Level II Neonatal Intensive Care Unit. Learn more at www.palmswesthospital.com.