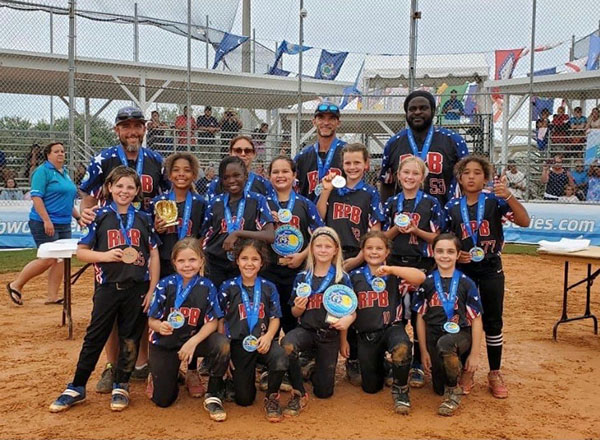 It has been a summer to remember for 12 young area softball players and their four coaches. This summer, the Royal Palm Beach U8 Girls All-Star softball team won a Florida State Championship in late June and then finished as the runner-up in a Babe Ruth World Series appearance in Jensen Beach in early August.
According to head coach Amy D'Archangelo, her team of 12 softball diamond stars traveled to Lake City in late June to compete in the U8 Babe Ruth Florida State Championship. The squad from Royal Palm Beach won all five of its games, including a 21-0 rout of the team from Columbia County in the state finale.
That state championship victory qualified Royal Palm Beach for the Babe Ruth U8 World Series in Jensen Beach. There, they competed against teams from Florida, Virginia and Louisiana. When all was said and done, the young ladies from Royal Palm Beach advanced to the championship game, where they lost 14-5 to JPRD from Louisiana on Aug. 4.
The team played nine games in Jensen Beach, where they won seven of them. Despite the loss in the World Series championship game, the entire season was filled with positive memories. D'Archangelo was thrilled with the attitude of her team from the outset.
"The girls are amazing athletes," she said. "They had such drive and a work ethic which was impressive. They challenged themselves, and they allowed me and our three coaches to push them."
D'Archangelo said the contributions to the team by her three assistant coaches — Dave Mancuso, Alan Williams and her husband Tom D'Archangelo — were a big plus.
A banner recognizing the strong showing in the Babe Ruth World Series by this year's U8 girls softball team will be put on display soon at the recreational softball fields in Royal Palm Beach.