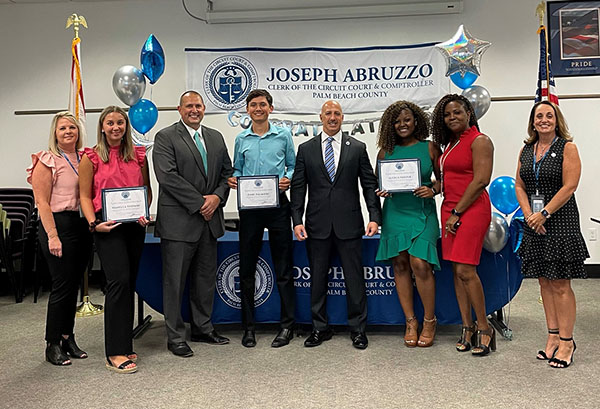 Donations from employees with the Clerk of the Circuit Court & Comptroller's Office will provide three local students each with a $1,500 college scholarship to continue their education.
The clerk's office has announced the winners of its annual Clerks for a Cause Scholarship Program. They include Alexus Foster, a graduate of Atlantic High School and Florida Atlantic University; Zane Palmieri, a 2021 graduate of Jensen Beach High School; and Isabella Thomas, a 2021 graduate of Palm Beach Central High School.
The scholarship program is open to dependent children of clerk employees and is funded entirely through voluntary donations made by members of the clerk's team. Each year, a committee of employees selects the scholarship winners based on the student's community service, grade point average and a 500-word essay.
"Our ClerkPBC team is committed to investing in our students' education and helping them succeed," Palm Beach County Clerk of the Circuit Court & Comptroller Joseph Abruzzo said. "We are proud to support our scholarship recipients as they continue their academic journey and reach their career goals."
All three of this year's scholarship winners are pursuing careers in the medical field.
Alexus Foster plans to become a pediatric neurosurgeon after completing medical school at Ross University School of Medicine in Barbados. She is the daughter of Pamella Sawyer, a lead court specialist in the South County office.
Zane Palmieri attends the University of Central Florida, where he is studying kinesiology and physical therapy. He is the son of Anthony Palmieri, the clerk's deputy inspector general and chief guardianship investigator.
Isabella Thomas will attend Florida State University this fall and plans to become a cardiothoracic surgeon. She is the daughter of Nicole Thomas, a court specialist in the clerk's county civil department.
The scholarship program is funded solely through donations from employees who voluntarily participate in the office's Dress Down Program, which allows team members who donate $2 a week to wear jeans to work on Fridays.