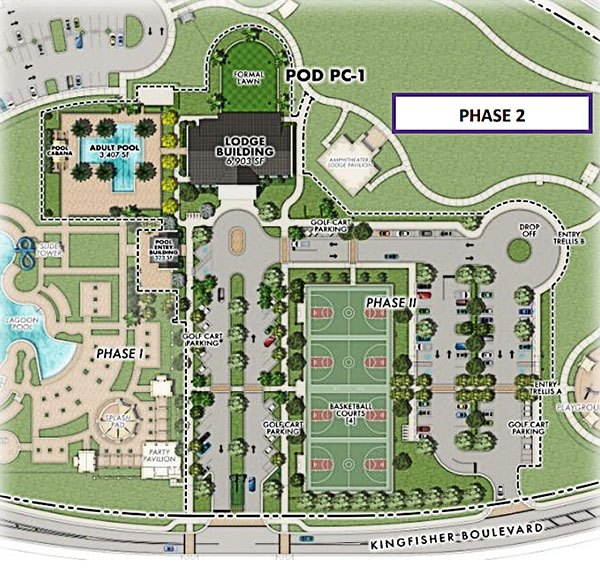 Sign, sign, everywhere a sign. That's what Westlake Vice Mayor JohnPaul O'Connor wants to avoid as the young community develops its main commercial thoroughfare along Seminole Pratt Whitney Road.
"This is not Las Vegas, and it's not Times Square," said O'Connor during the Monday, Aug. 9 meeting of the Westlake City Council, adding that he did not want to see "massive neon signs throughout the city."
O'Connor's comments came during a discussion of requests for sign variances by the planned 7-Eleven convenience store at the intersection of Seminole Pratt Whitney Road and Persimmon Blvd. West, and for the Grove Market shopping center on the east side of Seminole Pratt.
O'Connor noted that the entirety of Seminole Pratt is going to be some form of commercial through Westlake. "It's important the precedent we set now," he said.
Council members also expressed concern that planned signage for the Grove Market would mix new and existing signage in the 22-year-old shopping center that is once again to be anchored by a Winn-Dixie supermarket.
"Westlake is turning into a beautifully planned city," said Emily O'Mahoney of the planning firm Gentile, Holloway, O'Mahoney & Associates, representing the shopping center. "We're making great effort to bring the [shopping center and signage] up to today's standards."
Yet what was presented was concerning to some on the dais.
"I would have liked to have seen something different," Councilwoman Katrina Long-Robinson said.
Requiring current tenants to pay thousands of dollars for new signage as the shopping center tries to emerge from years of stagnation would be less than optimal in terms of sustaining those businesses, O'Mahoney said. She also said that the requested variances were in keeping with those granted the Publix shopping center planned nearby.
Meanwhile, Donaldson Hearing of the planning firm Cotleur & Hearing, representing the 7-Eleven project, assured council members that the area would be "very nicely landscaped" so that signage would not be glaring.
In the end, both variance requests passed on 5-0 votes, with O'Connor making the motions with the stipulation that none of the new signage exceed previously approved variances for similar developments. In the case of the Grove Market, a second stipulation was added that all tenant signs must be refurbished or replaced within 36 months.
Also approved at the meeting was Phase 2 of the PC-1 Amenity Center, known as the Westlake Adventure Park, east of Seminole Pratt Whitney Road.
Phase 2 will add a 3,400-square-foot, adults-only swimming pool with a lap area; a 320-square-foot pool entry building; a pool cabana building; a 6,900-square-foot lodge building; and four basketball courts, all on 4.17 acres. The lodge building, which is being planned with partitions to allow for larger and smaller gatherings, will be used mostly as an event center with restrooms and a catering kitchen.
The application included one monument sign, a landscaping plan, an additional 211 automobile parking spaces and 37 golf cart parking spaces, and a spacious lawn area next to the lodge.
"This is really exciting," said Hearing, representing developer Minto. "We had a great team of consultants and experts… They looked at every aspect, every detail."
The site plan application was approved 5-0.
Previously approved in 2018 was the already completed Phase 1, on 10.72 acres, which includes a swimming pool, pavilions, concession areas, an outdoor amphitheater and a BMX pump park.
In other business, the council approved Dec. 3 as the qualifying deadline for the March 8, 2022, Westlake municipal election. The action was taken at the recommendation of the Palm Beach County Supervisor of Elections so that qualifying ends on or before the 95th day before the election to accommodate statutory vote-by-mail requirements and allow appropriate time for election preparations.