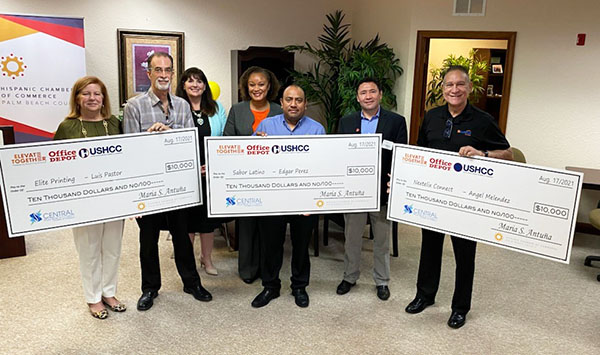 On Tuesday, Aug. 17, the Hispanic Chamber of Commerce of Palm Beach County, now part of the Central Palm Beach County Chamber of Commerce, awarded cash grants of $10,000 each to three small Hispanic businesses in partnership with Elevate Together, Office Depot and the United States Hispanic Chamber of Commerce.
Congratulations to the three grant recipients: Luis Pastor of Elite Printing & Signs, Edgar Perez of Sabor Latino and Angel Melendez of Nextelix Connect.
Elevate Together was designed to help accelerate the creation, growth and prosperity of Black and Hispanic small businesses through education, access and aid, in collaboration with the National Urban League's Entrepreneurship Centers and the United States Hispanic Chamber of Commerce.
As the founding corporate partner of this nonprofit initiative, the ODP Corporation pledged an initial investment to help kickstart the program in Atlanta, Chicago, Los Angeles, Philadelphia and South Florida, to provide eligible small business owners with access to technical assistance programming, mentorship services, professional networks and more.