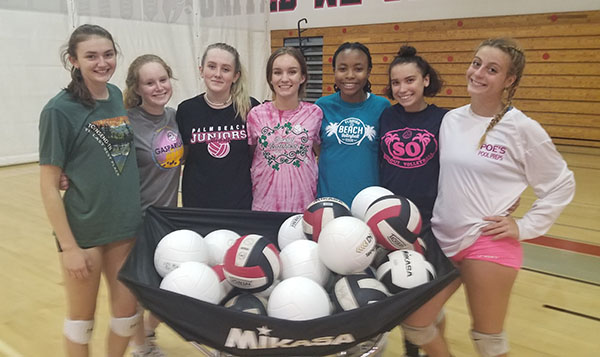 The girls volleyball season is underway, and the teams at Seminole Ridge and Royal Palm Beach high schools have high hopes for a season full of victories.
The main objective for the Seminole Ridge High School girls varsity volleyball team is to compete for the district title, according to head coach Scott O'Hara.
In many respects, this year's girls volleyball team at Seminole Ridge may well extend its season into regionals and beyond, based on the skill set of the 12-player varsity squad, five of whom are returning from last year's team, which had a 10-3 record.
O'Hara expects everybody on the squad to give 100 percent in practice and in games. "With the athleticism on this team, no ball should hit the court," he said.
Every day at practice, O'Hara has been focusing on improving his team's overall court awareness, communication skills and fitness. They spend a great deal of time working on drills, such as blocking at the net, court movement and individual fitness.
O'Hara is pleased with his team's overall attitude and commitment to excellence. "I have a really good group of young ladies, and they work hard in practice," added O'Hara, who also coaches the girls flag football team at Seminole Ridge. "We have lots of energy, players filled with optimism and good team chemistry. I love how this team shows all-out hustle."
O'Hara said that every player has something significant to contribute. Like all high school athletic teams, senior leadership is a key part of any team's success. O'Hara is expecting on-the-court leadership in practice and games from his seven seniors — Samantha Vernati, Nicole Block, Juliana Robinson, Brooke Reeves, Elon Brown, Sarah Gomez and Sophia Caprio.
Another one of O'Hara's key players will be junior Aubrey Davis. "Aubrey is a lefty and hits well from the right side of the court," he said.
There are also four skilled sophomores on the squad, who O'Hara expects will play a great deal this year. They are Sophia Garramone, Jayden White, Alayna Salony and Celina van Schaik.
Three other key members of the volleyball team are O'Hara's three assistants — Katelyn Rawls, Candace Horton and Lyndsey Plancarte. Rawls is the main varsity assistant coach, Horton is the head coach of the junior varsity team and Plancarte coaches the freshman team.
Seminole Ridge opened up its regular season on Aug. 24 with a 3-0 loss at Park Vista. Park Vista prevailed 27-25, 25-21 and 25-20. On Aug. 26, the Hawks traveled to Palm Beach Gardens and defeated William T. Dwyer 3-1. On Sept. 1, the squad hosted John I. Leonard, defeating the Lancers 3-0 (25-15, 26-24 and 25-23). On Sept. 2, Seminole Ridge played at home against Olympic Heights, winning 3-0 (25-16, 25-22 and 25-7).
The girls varsity volleyball team at Royal Palm Beach High School is a young team coached by a young coach. Both are trying to grow up quickly.
Head coach Jessica Block is an experienced volleyball player who graduated from RPBHS, but she's only 20 years old and is also carrying 12 credit hours as a student at Florida Atlantic University. Last year, she was an assistant coach for the team. She is now the head coach because last year's head coach, Alison Arenas, is on maternity leave. Despite Block's youth, RPBHS Athletic Director Eric Patterson has full confidence in her.
"Coach Block is a graduate of Royal Palm Beach High School. So, we have seen her grow up as a person and a player," Patterson said. "What caught our attention was coach Arenas' recommendation and, more importantly, we had both varsity assistants go out at some point last year, and Block ran everything like clockwork. In addition, she came prepared with her own staff she helped put together. Coach Arenas has offered her guidance and support when needed. In addition, Block also coaches flag football with us, and our flag football head coach was also convinced she could do the job. She knows the school, the players and the community. She has jumped in like she has been there for a number of years."
It's worth noting that two of Block's current seniors were teammates of hers when she was a senior at RPBHS, back in the fall 2018 season.
This year's girls volleyball team at Royal Palm Beach has 13 players — seven seniors, two juniors, one sophomore and three freshmen.
Block's main objective in practice and in games is to build teamwork. "This year, it's all about building team chemistry," Block said. "When we bring energy to the court and communicate well, we play well."
Block is looking for leadership from senior libero Hailee Tino, senior middle hitter Hannah Farrell, sophomore outside hitter Jenna Larsen and freshman setter Jadyn Mainolfi.
"I need Hailee to constantly talk and be the voice on the court, while Hannah is one of our star blockers and hitters," Block said. "Jenna must be able to adapt to the moment in all games in order to be a successful outside hitter. Jadyn is a skilled setter, but she must adapt to the new changes in high school volleyball."
Royal Palm Beach plays in a district that has two schools — Wellington and Palm Beach Gardens — that are very good every year, but with hustle, strong communication and a willingness to work hard and smart, anything is possible. "I have girls with lots of talent, but we need to build team chemistry with one another," Block emphasized.
In its first four games, the Royal Palm Beach squad has won three of them. The Wildcats defeated Olympic Heights 3-2 (25-17, 25-21, 21-25, 13-25 and 15-8) on Aug. 24; Palm Beach Lakes 3-0 (25-7, 25-6 and 25-23) on Aug. 26; and Forest Hill 3-0 (25-17, 25-13 and 25-7) on Sept. 2. The lone defeat was a 3-0 loss (25-21, 25-18 and 25-19) to Palm Beach Gardens on Aug. 31.