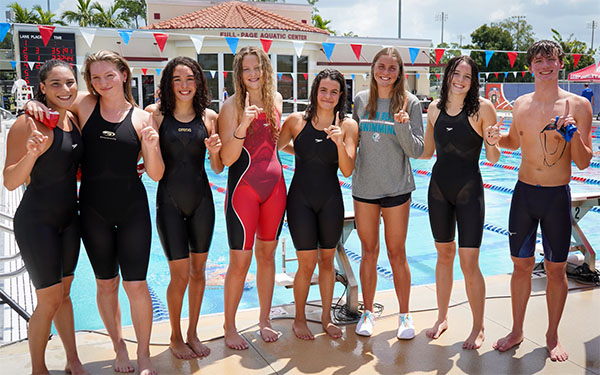 It was a record-breaking day in the swimming pool on Saturday, Sept. 4 at the King's Academy Short Course Meter Invite. In attendance were 120 swimmers from five south Florida schools: Lake Worth Christian, South Florida HEAT, St. Andrew's, Jensen Beach, and the host school, TKA.
Of the swimmers, four of them had competed in this year's U.S. Olympic Swim Trials, which were held earlier this year in Omaha, Nebraska. All four of them broke at least one national high school record for a short-course (25 meters long) pool in this meet. St. Andrew's set two new relay records.
Two of the new national high school records were set by TKA senior Joshua Zuchowski. Zuchowski, who will be headed to Stanford University next fall, set new national high school records in the 200-meter individual medley (1:58.89) and the 100-meter backstroke (53.77). Zuchowski is the first high school age swimmer in the United States to break the two-minute barrier in the 200-meter IM this year. In the backstroke, he eclipsed his own previous national best time, which was 53.80.
The other swimmers who set individual records were Jensen Beach senior Blair Stoneburg, South Florida HEAT freshman Erika Pelaez and St. Andrew's sophomore Aspen Gersper. Stoneburg, who will be swimming at the University of Wisconsin next fall, set three national high school records in the 200-meter freestyle (1:57.83), 400-meter freestyle (4:08.12) and the 500-meter freestyle (5:10.56). Pelaez established new national high school records in the 50-meter (25:01) and 100-meter freestyle (54.75). Gersper's record-breaking time was in the 100-meter butterfly (1:01.01). The new relay records set by St. Andrew's were in the girls 200-meter freestyle relay (1:45.70) and the girls 400-meter freestyle relay (3:49.26).
"It was a great opportunity to have several multiple-time FHSAA State Champions and Olympic Trials Qualifiers at our high school invite," said Jonathan Zuchowski, aquatics director at TKA. "It is great for the younger kids who do not qualify for states and seldom see swimmers this fast all in the same place. All the swimmers who broke individual records this weekend are very gifted and extremely hard workers."
Coach Zuchowski said his team's next big meet will be the Florida High School Athletic Association's state swimming championships, which will be held in early November in Stuart at the Sailfish Splash Waterpark.
"This meet closed out our 2021 short-course meter season," Zuchowski said. "Due to COVID-19, nothing is a guarantee. I thought let's race fast early season, and if things get disrupted later in the season, you can look back and say that you took advantage of the opportunities you were given."